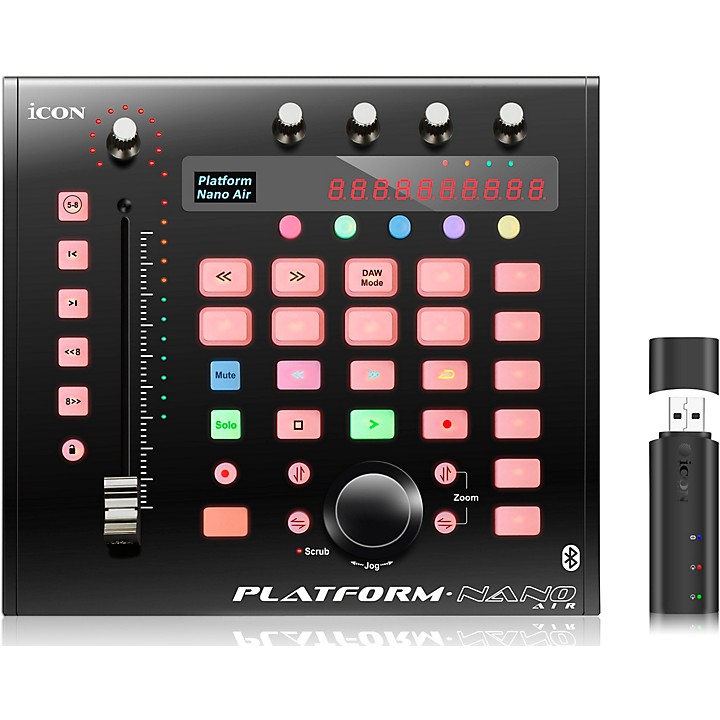 Wireless or wired, with total DAW functionality and versatility.
The Platform Nano Air is a MIDI control surface for producers, engineers, musicians and home studio enthusiasts who want hands-on control of their modern "in the box" digital music production with a small footprint. The Platform Nano Air controller adds tactile control with a single motorized fader via USB 3.0 or Bluetooth wireless to your Digital Audio Workstation (DAW) and production system. It features one (1) full-sized motorized fader, four (4) rotary dual-function encoder knobs, backlit buttons for Mute, Solo, Automation and Transport control, a jog wheel and access to your entire mix by banking across tracks in groups of 8 or 1 channel at a time. Mackie Control and HUI protocols provide seamless integration with most popular digital audio workstations. Overlays for Cubase, Nuendo, Ableton Live, ProTools, Logic, Reason, Studio One, Bitwig, FL Studio, Adobe Audition, Digital Performer, Sonar, Samplitude and Reaper come standard with your controller.
Free software included
Includes free recording software, such as Harrison 32C Vocal Intensity Processor, a "greatest hits" collection of features from Harrison's analog console heritage, Harrison AVA plug-ins and Mixbus32C workstation; Tracktion DAW Essentials, a collection of 16 contemporary FX plug-ins for use with any DAW; Dotec Audio plug-ins for streaming, podcasting, recording and mixing; and Bitwig Studio 8-Track, the trim and effective digital audio workstation to start producing, performing and designing sounds like a pro, all available via download upon purchase and registration.
Specifications
Connector: USB 3.0 connector (standard type)
Connector: Mini USB connector (mini type)
Power supply: 5V/2A DC
Current consumption: 2A or less
Weight: 0.757 kg (1.65 lb.)
Dimensions (LxWxH): 215 x 198 x 40 mm, 8. 5" x 7. 8" x 1.57"
Features
DAW control surface with single touch-sensitive motorized fader
5 push encoders with 11-segment LED rings for panning, EQ, and plug-in control
8 color-coded buttons with 5 different layers of control for a wide variety of functions
Backlit Mute, Solo and Record buttons
6 backlit transport buttons including – Play, Stop, Rec, Rewind, Fast Forward and Loop
Jog shuttle wheel for fast search, scrub and control
Backlit Zoom buttons with two directional keys (Left/Right & Up/Down) for fine jog adjustment
Backlit Track and Bank buttons for easy channel selection
Backlit LCD to display channel name, control values etc. for each channel
12-segment LED display showing time or location of your project in either SMPTE or MIDI beat clock (bars, beats, ticks) format
Supports Mackie Control Universal and HUI protocols for seamless integration with most digital audio workstations
Includes overlays for Cubase/Nuendo, Logic Pro X, Digital Performer, FL Studio, Samplitude, Reaper, Studio One, Bitwig, Reason, ProTools, Sonar, Audition, Ableton Live and User Defined Mode
iMap software included for easy mapping of MIDI functions
2.4G (Gen 4.0) BLE wireless or USB 2.0 high-speed connectivity
Includes wireless receiver
3000mAH lithium rechargeable battery built-in for up to 5-6 hours of continuous operation
Firmware upgrade available via USB connection and iMap software
Class-compliant with Mac OS X, Windows 10, Windows 8 (32-bit & 64-bit), Windows 7 (32-bit & 64-bit)
Superior build quality and robust metal casing with Kensington lock port
Optional Platform D3 OLED display for track and plugin parameter feedback
The Platform Nano control surface and Platform Air wireless module are also available separately
Free

Free software included
Harrison 32C Vocal Intensity Processor, a "greatest hits" collection of features from Harrison's analog console heritage, Harrison AVA plug-ins and Mixbus32C workstation
Tracktion DAW Essentials, a collection of 16 contemporary FX plug-ins for use with any DAW
Dotec Audio plug-ins for streaming, podcasting, recording and mixing
Bitwig Studio 8-Track, the trim and effective digital audio workstation to start producing, performing and designing sounds like a pro, all available via download upon purchase and registration
Operating system compatibility
Class-compliant with macOS Big Sur (M1 and Intel Compatible), Windows 10 and Windows 8/7 (32 & 64-bit)