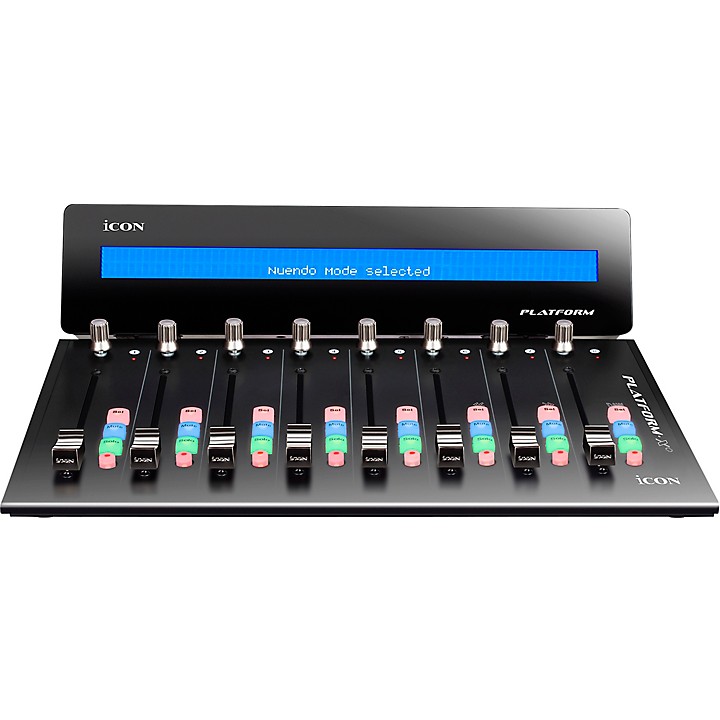 Get hands on with your mix no matter which DAW you use.
Expand your Platform M+ modular DAW control system by up to 32 channels using up to three Platform X+ units from Icon Pro Audio. Each Platform X+ houses eight touch-sensitive motorized channel faders with 10-bit resolution, eight dual-function encoder knobs, and mute, solo, select, and record buttons. The Platform X+ utilizes Mackie control for Cubase, Nuendo, Samplitude, Logic Pro, Studio One, Bitwig, and Ableton Live while Mackie HUI protocol powers Pro Tools. Add the optional Platform D2 display to better view track names and parameters.

Free software included
The Platform X+ comes with free recording software, such as Harrison 32C Vocal Intensity Processor, a "greatest hits" collection of features from Harrison's analog console heritage, Harrison AVA plugins and Mixbus32C workstation; Tracktion DAW Essentials, a collection of 16 contemporary FX plugins for use with any DAW; Dotec Audio plugins for streaming, podcasting, recording and mixing; and Bitwig Studio 8-Track, the trim and effective digital audio workstation to start producing, performing and designing sounds like a pro, all available via download upon purchase and registration

Features
8-channel extender for Platform M+
Expandable to 32-channels control surface with 3 units of Platform X+ and a Platform M+
Extremely compact, durable and versatile
Customize the perfect setup with a variety of Platform extension modules
8 touch-sensitive motorized faders with 10-bit resolution
8 dual-function encoder knobs (Rotate and enter)
Illuminated buttons for each channel including Sel, Mute, Solo and Record
ICON "Quick-Setup" driver is available for Cubase, Nuendo, and Bitwig for instant plug & play feature
Mackie control built-in for Cubase, Nuendo, Samplitude, Logic Pro, Bitwig, Studio One and Ableton Live.
Mackie HUI protocol build-in for Pro Tools
iMap software included for easy mapping of MIDI functions
Firmware upgrade available simply via USB connection and iMap software
Class-compliant with Windows XP, Vista (32-bit), Windows 7 (32-bit & 64-bit),Windows 8 (32-bit 7 64-bit), Windows 10 and Mac OS X (IntelMac)
USB 2.0 high-speed connectivity
Superior build quality and robust metal casing with Kensington lock port
12V/2.5A power adapter included
Free Software Included
Harrison 32C Vocal Intensity Processor, a "greatest hits" collection of features from Harrison's analog console heritage, Harrison AVA plug-ins and Mixbus32C workstation
Tracktion DAW Essentials, a collection of 16 contemporary FX plug-ins for use with any DAW
Dotec Audio plu-gins for streaming, podcasting, recording and mixing
Bitwig Studio 8-Track, the trim and effective digital audio workstation to start producing, performing and designing sounds like a pro, all available via download upon purchase and registration
Operating system compatibility
Class-compliant with macOS Big Sur (M1 and Intel Compatible), Windows 10 and Windows 8/7 (32 & 64-bit)