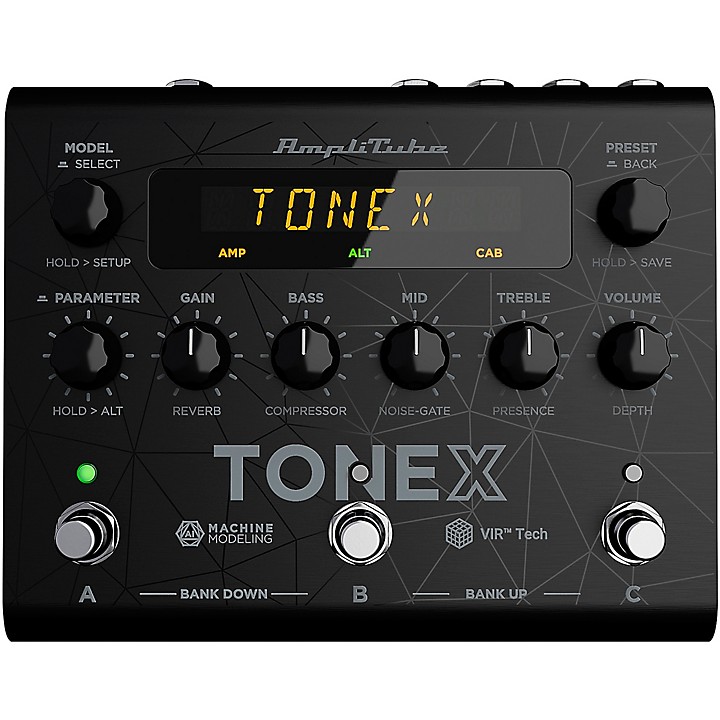 Carry a storehouse of rigs to every gig, rehearsal and studio session.
The IK Multimedia TONEX pedal is almost like having a professional staging company at your feet that can deliver any dream rig you can imagine. Save up to 150 presets, organized within 50 banks of 3 preset slots each, giving you endless tones from a single portable rig. TONEX pedal provides an advanced noise gate, EQ and compressor, and five stereo reverbs derived from their award-winning AmpliTube X-SPACE pedal.

Use the included TONEX MAX software not only to model your rig, but also as a standalone or a plug-in integrated with your DAW to enjoy the exact same tone you use live in your studio productions. Future sonic explorations are unlimited, as you can always expand your model collection via free downloads from ToneNET and store presets in the TONEX librarian. The TONEX pedal also offers MIDI I/O, a custom IR loader, USB interface/connection and 24-bit/192kHz converters.

Features
Realistic amps, cabinets and pedals in one box
Features 480 Tone Models (factory presets/downloads)
Model your own rig with included TONEX software
MIDI I/O and USB connection
Load and play ultra-realistic Tone Models of amps, cabs and pedals
Uses breakthrough AI Machine Modeling and real guitar signals for incredible results
Model amps, distortion, overdrive, fuzz, booster and EQ pedals
Exclusive VIR multi-IR cabinets and custom IR Loader, noise gate, EQ, compressor and stereo reverb
Unlimited expandability with free downloads from ToneNET
Includes TONEX MAX software all-in-one player, modeler and librarian and AmpliTube 5 software
9V DC power supply (included)