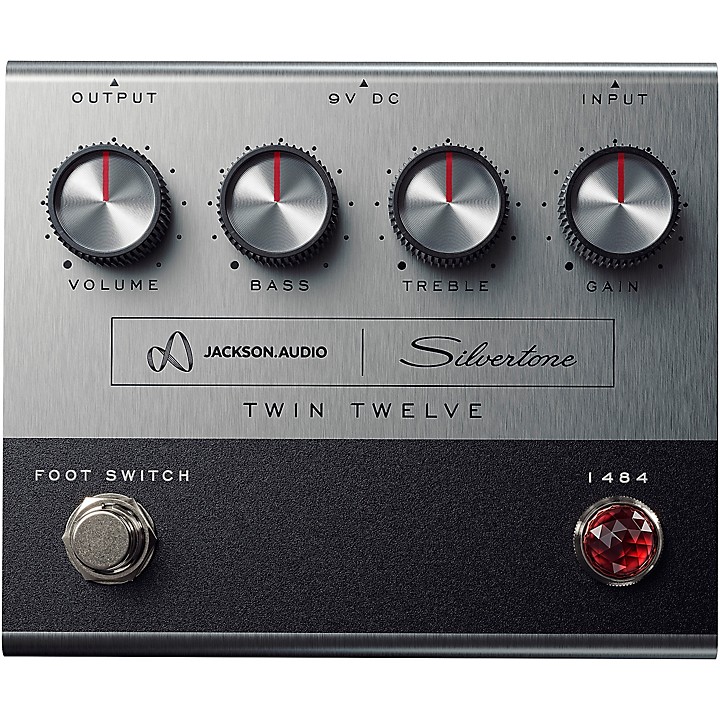 Clean, overdriven tones and dynamic response recreated from the original Silvertone Twin Twelve amplifier.
The Jackson Audio 1484 Twin Twelve effects pedal is a meticulous recreation of the original Silvertone Twin Twelve amplifier from 1963. The unique sound of the Twin Twelve powers the tones of many of today's rock icons, including Jack White, Dave Grohl, Beck, Billie Joe Armstrong, Dan Auerbach and many more.
The new 1484 Twin Twelve can be used as a studio-grade preamp, booster, EQ or overdrive, depending on how the controls are set. It takes the exact schematic from the original Silvertone Twin Twelve and replaces all the vacuum tubes with JFETs—a unique type of transistor that behaves very much like vacuum tubes. These JFETs are what give the 1484 Twin Twelve the same touch sensitivity and dynamic response as the original amplifier. To gain every bit of performance and tone out of the JFETs, Jackson Audio built a robust power supply including a voltage doubler, which internally converts 9V to 18V.
Each 1484 Twin Twelve is built by hand using top-quality parts, including a polished stainless steel enclosure, just like the original amplifier chassis. Though the Silvertone Twin Twelve's original knobs are no longer being made, Jackson Audio had them custom manufactured to recreate the classic look, in a size appropriate to the pedal's dimensions. The 1484 Twin Twelve also includes a soft-click true bypass foot switch.
Features
Meticulous recreation of the original Silvertone Twin Twelve
Can be used as a studio-grade preamp, booster, EQ or overdrive
Replaces the original vacuum tubes with JFETs
Voltage doubler which internally converts 9V to 18V for more dynamic response
Hand-built with a polished stainless steel enclosure
Custom-manufactured knobs to recreate the look of the original
Soft-click true bypass foot switch