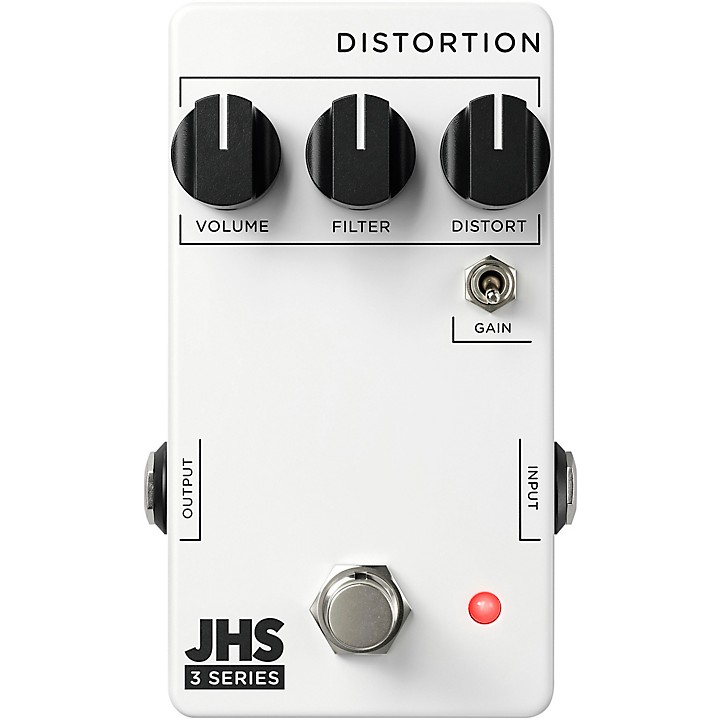 Massive distortion at the turn of a dial.
The 3 Series Distortion effects pedal by JHS Pedals is a powerful reimagining of a classic distortion pedal at an affordable price. Packed with gain and grit, this pedal pairs a 3-knob interface with a 2-way clipping toggle to shape saturated tones from clean boosts to heavy distortion. The 3 Series Distortion is a tone sculptor's dream and a steal at its price point.
The 3 Series Distortion features volume, filter, and distortion knobs that provide a wide range of usable overdrive sounds in any position. Roll up the volume for a clean boost, crank the distort for high gain saturation, or blend all three knobs for medium overdrive—the tonal possibilities are endless. The filter knob attenuates bass frequencies for extra definition, allowing guitarists to tighten up their tone as needed. This simple yet powerful layout gives shredders and rockers alike the freedom to refine their distortion to taste.
The 3 Series Distortion's 2-way clipping toggle switch selects between symmetrical and asymmetrical clipping modes for extra tonal customization. In symmetrical mode, the pedal produces a classic overdrive with focus and sustain. Switch to asymmetrical clipping for a looser, rougher distortion with an expanded gain range and a raw, vintage-inspired sound. This toggle provides an extra dimension of tone shaping that takes the 3 Series Distortion from a versatile overdrive to a full-fledged distortion powerhouse.
The 3 Series Distortion features a raised noise floor and emphasized midrange frequencies that give more volume and gain range than vintage overdrive pedals. This expanded headroom allows for a dynamic, touch-sensitive response that takes amplifiers to the edge of breakup. The 3 Series Distortion seasons clean tones with saturated crunch, focuses lead lines with extra grit, and tightens up high-gain amplifiers with a mid-forward definition. Its wide tonal range also provides colored boosts for solos that need to cut through.
By studying famous overdrive and distortion pedals, JHS Pedals has crafted an inspired reimagining of vintage grit in the 3 Series Distortion. This pedal provides timeless overdrive tones in an intuitive, affordable package for today's players. The 3 Series Distortion delivers decades of tone-shaping experience at a price that can't be beat. Plug into this pedal and unleash your inner rock hero.
Specifications
The JHS Pedals 3 Series Distortion runs on 9V DC Negative Center power and consumes 9mA.
LENGTH 4.42" X WIDTH 2.38" X HEIGHT 1.22"
Features
The controls on the Distortion are Volume, Filter (or Tone), and Distort knobs that give you a wide range of usable sounds in any position. The Gain toggle gives you a choice between more saturated and compressed or a more open and crunchy distortion. This switch plays a big part in how the pedal responds to your playing and touch dynamics.