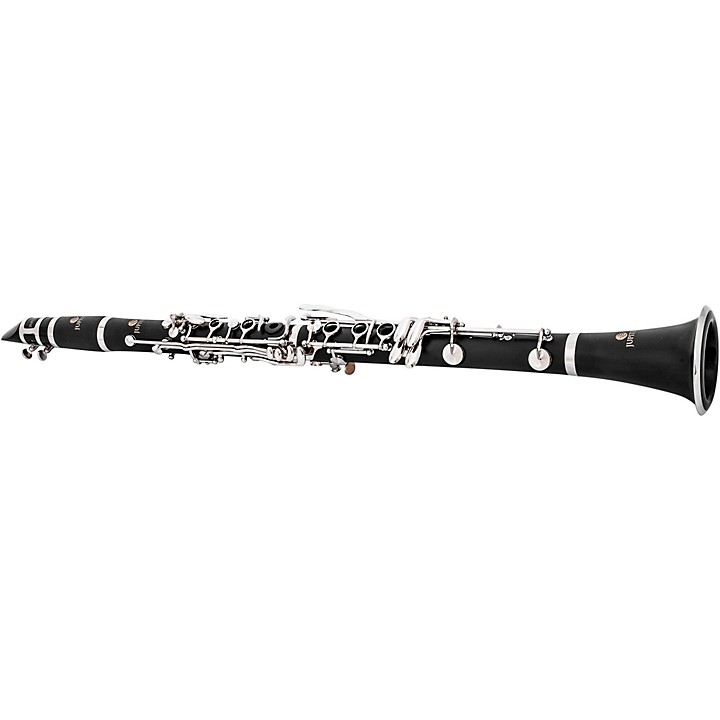 An excellent clarinet for the beginner or advancing student.
The Jupiter JCL700NA Student Bb Clarinet is an ideal choice for beginners ready to embark on their musical journey. Constructed from robust ABS resin, the JCL700NA resists damage from drops, temperature changes and humidity fluctuations. Its durable yet lightweight body produces a tone reminiscent of wood, with full low end and clear high notes. The JCL700NA's nickel-plated key mechanism is responsive and fluid, facilitating mastery of basic fingering techniques. An adjustable thumb rest, high-quality springs and an easy-playing mouthpiece provide comfort and control. The included carrying case protects this clarinet during transport and storage.


Durable ABS Body Withstands Rigors of Practice and Play
As students learn proper clarinet technique and fingering positions, accidental drops and bumps are inevitable. Jupiter constructed the JCL700NA's body from ABS resin, a durable plastic resistant to damage from falls, temperature changes and humidity. Its ABS construction also produces a full tone with a pleasing high end, similar to wood. Students can focus on developing their skills, not worrying about damage to their instrument. The JCL700NA's durable yet lightweight body is perfect for small hands and long practice sessions.


Responsive Nickel-Plated Keys
The JCL700NA's nickel-plated, nickel silver keys are fluid and responsive, facilitating mastery of basic fingering techniques. Their smooth action and accurate intonation inspire confidence in beginners. Undercut tone holes further improve intonation for accurate pitch. A comfortable and secure fit results from an adjustable thumb rest with strap ring.


Student-Focused Design
Jupiter designed the JCL700NA specifically for beginning clarinetists. An easy playing mouthpiece with ligature and cap, lightweight case and owner's manual simplify getting started. The case's durable exterior and interior padding protect the clarinet during transport and storage. All student needs are included with the JCL700NA, inspiring musicianship through Jupiter's player-centered philosophy.


A Lifetime of Music
Jupiter builds high quality, dependable band instruments for students of all levels. Since 1980, Jupiter has produced clarinets, flutes, trumpets and trombones that withstand the rigors of practice and performance from elementary school through college. Each instrument undergoes rigorous quality testing to ensure durability and playability for years of music-making. Start your student's musical journey with the Jupiter JCL700NA, an instrument that will last through graduation and beyond.


Specifications
Key of Bb
ABS Resin Body
Nickel Silver Bell Ring
Nickel-Plated Nickel Silver Keys
.583" Bore
Adjustable Thumb Rest
Undercut Tone Holes
65mm Barrel
Comfortable C/G Key Riser
With ABS Molded Case (JCL700NA)
Features
Offset Trill Keys are of the traditional French configuration helping to alleviate excess moisture accumulation and ensure premium performance
ABS Resin Body provides a durable alternative to a wood body perfect for rigorous playing demands without sacrificing tonal quality
Nickel-Plated Nickel Silver Keys offer the combination of great feel and long lasting beauty