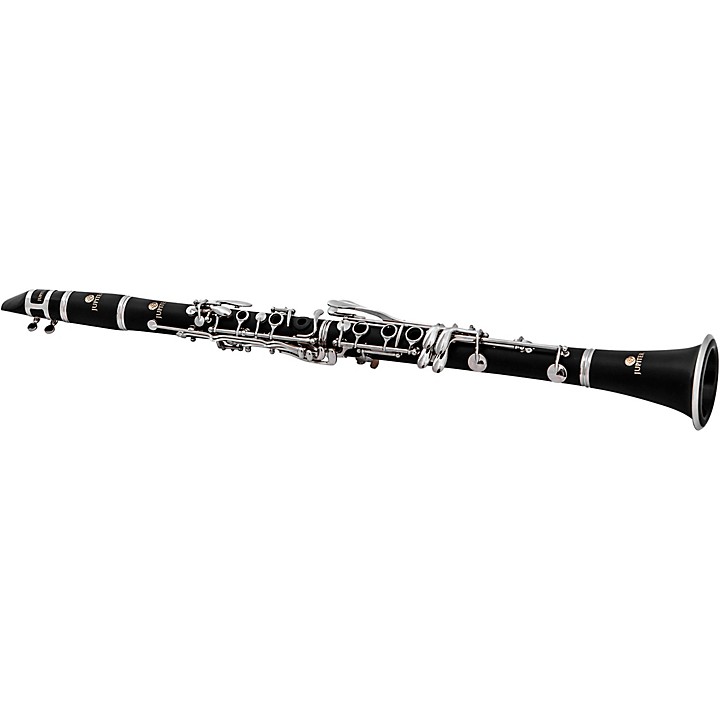 An excellent clarinet for the beginner or advancing student.
The Jupiter JCL710NA student Bb clarinet. Built from robust ABS resin, the JCL710NA is a resilient and budget-friendly choice for aspiring clarinetists. Its durable yet lightweight body will withstand the rigors of practice and performance, while its fluid nickel-plated key mechanism facilitates the development of proper fingering technique. An adjustable thumb rest, high-quality blue steel springs and a woodwind-standard 0.577" bore size provide familiarity and comfort for new players. With an easy-playing mouthpiece and ligature included, the JCL710NA clarinet has everything a budding musician needs to embark on their musical journey. The JCL710NA is an ideal first clarinet guaranteed to last through graduation and beyond.


ABS Body For Enhanced Durability
Unlike wood, ABS resin is highly resistant to damage from temperature changes, humidity and accidental drops. The JCL710NA's matte ABS body provides the resilience necessary for student use, with a tone reminiscent of wood. Your student can focus on developing proper technique and artistry without worrying about damage to their instrument.


Responsive Nickel-Plated Keys
The JCL710NA features nickel-plated keys and an adjustable thumb rest for comfort and control. Its keys are specially designed with undercut tone holes to improve intonation for beginning players. Fluid and responsive, the JCL710NA's key mechanism will support your student as they master basic and intermediate fingerings.


Woodwind-Standard Design
With familiar features like a 0.577" bore size, woodwind-standard key layout and included mouthpiece, the JCL710NA clarinet provides an uncomplicated introduction for new musicians. Its thoughtful design will set students up for success, allowing them to develop proper technique and build strong fundamentals from the start.


Additional Features
The JCL710NA clarinet includes a lightweight case for safe transport and storage. A metal bell ring and adjustable thumb rest with strap ring round out this well-appointed beginner model.


Specifications
Key of Bb
ABS Resin Body
Nickel Silver Bell Ring
Nickel-Plated Nickel Silver Keys
.583" Bore
Adjustable Thumb Rest
Undercut Tone Holes
65mm Barrel
Comfortable C/G Key Riser
ABS Molded Case
Features
Offset Trill Keys are of the traditional French configuration helping to alleviate excess moisture accumulation and ensure premium performance
ABS Resin Body provides a durable alternative to a wood body perfect for rigorous playing demands without sacrificing tonal quality
Nickel-Plated Nickel Silver Keys offer the combination of great feel and long lasting beauty