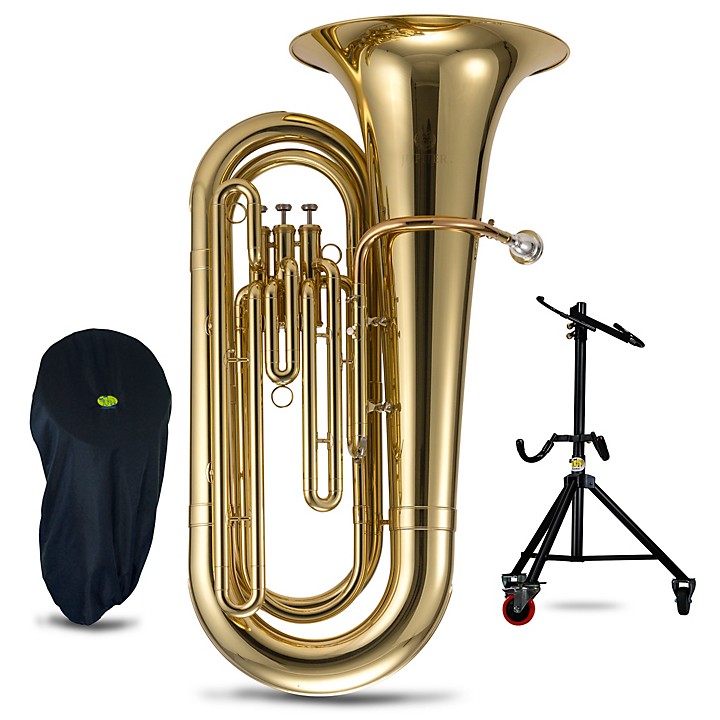 BBb tuba in compact 4/4 size with included stand and cover.
The Jupiter JTU730 tuba is the perfect step-up instrument for the student ready to graduate to a full-sized tuba with a larger bore and three valves. It also offers the convenience of a removable bell section.

The Tuba Essentials Stand Pack includes The Hug adjustable tuba stand and The Hug stand cover. The Hug adjustable tuba stand is designed to allow the musician who may not otherwise be able to play the tuba, to experience the joy of playing the instrument. The safety-coated arms are spring loaded, to easily insert and remove the instrument from the stand, allowing a firm grip to prevent the instrument from moving while in the stand. The Hug stand can be adjusted for playing in both sitting and standing positions, while the non-marring wheels and locking brake front wheel allow easy movement and secure stationary position when needed. The tuba cover is designed to fit over the tuba while in the Hug tuba stand. Made with light sport nylon exterior, each cover is designed to keep dust off the tuba while also protecting the finish with a soft cotton flannel interior liner. Each cover has a draw string at the bottom for a nice snug fit.

Specifications
Key: BBb
Size: Compact 4/4
Bore: .709"
Bell: 15"
Bell Position: Upright
Number of Valves: 3
Valve Position: Top
Valve Type: Piston
Valve Material: Nickel plated
Case: ABS molded plastic with wheels
Mouthpiece: Yes
Finish: Lacquer
Features
Tuba
Yellow brass construction
Tuba includes hardshell ABS case with wheels
Durable cover that covers instrument in the stand when not in use
Stand
Helps ensure proper posture leading to improved playing performance
Easy mobility of the instrument in the stand with three non-marring 4" wheels with 250-lb. capacity
Rotating front wheel with lock allows infinite positioning possibilities and secure lock-in-place setting
Infinite height adjustment for precise, comfortable mouthpiece placement for the player
Instrument can be held in the stand for playing or at rest