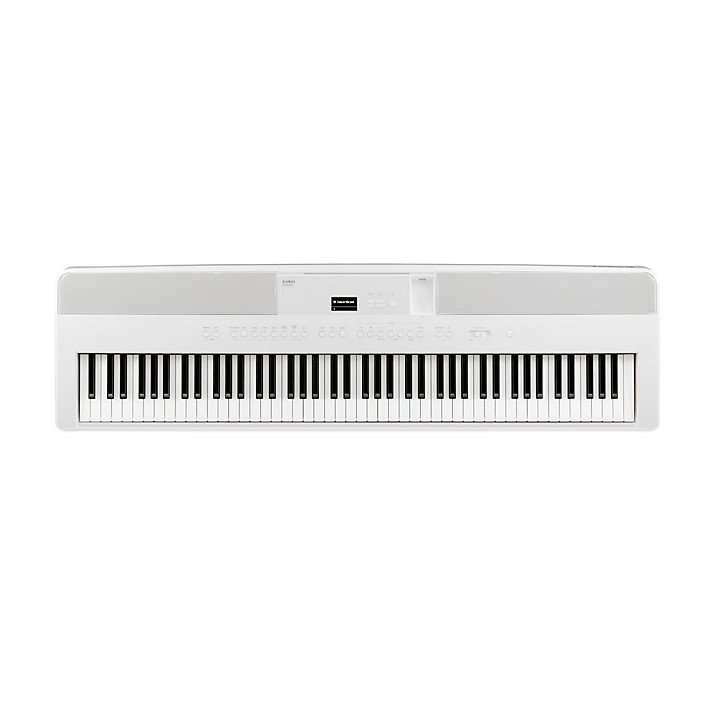 A wide range of instrument sounds at your fingertips.
The ES520 from Kawai is a portable 88-key digital piano that delivers incredible acoustic tone in a conveniently compact design. With an included collection of acoustic piano sounds, along with electric pianos, organs, strings, and other instrumental sounds, this mid-range digital piano is ready to support a wide range of musical styles. Featuring Kawai's Progressive Harmonic Imaging sound technology and Responsive Hammer Compact II keyboard action, the ES520 digital piano is a high-performance instrument suitable for the home, studio, stage or school.

Responsive Hammer Compact II Weighted-Key Keyboard Action
The Responsive Hammer Compact II action has been developed to reproduce the distinctive touch of an acoustic grand piano. The weight of the keyboard is appropriately graded to mirror the heavier bass and lighter treble hammers of acoustic pianos, with a smooth matte texture applied to each black and white key for enhanced playability. As with other Kawai digital piano keyboard actions, Responsive Hammer Compact II utilizes triple sensor hammer velocity detection and features a springless mechanism that delivers a smooth and natural piano playing experience.

Despite its lightweight, compact design, the RHC II action allows experienced pianists to perform with confidence, playing fortissimo with power and certainty, while delicately controlling the softest, most gentle pianissimo passages.

Shigeru Kawai SK-EX and Kawai EX Instruments Reproduced With Harmonic Imaging Sound Technology
The ES520 digital piano captures the rich, expressive sound of the Kawai SK-EX and EX grand pianos, with all 88 keys of these exceptional instruments meticulously recorded, analyzed and faithfully reproduced using Progressive Harmonic Imaging sound technology. This unique process accurately recreates the broad dynamic range of the original grand pianos, affording pianists an extraordinary level of expressiveness ranging from the softest pianissimo to the strongest, boldest fortissimo.

The instrument's built-in Virtual Technician feature allows various characteristics of these acoustic piano sounds to be shaped at the touch of a button, with settings to adjust string and damper resonance, in addition to subtle hammer, damper, and key release noises. This personalized piano sound is further enhanced with atmospheric reverberation effects, delivering a rich, vibrant piano tone with breathtaking realism and authenticity.

Strong Selection of Additional Instrument Sounds
Complementing the realistic acoustic piano voices, the ES520 digital piano also features a strong selection of additional instrument sounds, ranging from electric pianos and church organs, to string, choir and mallet instruments, inviting musicians to add greater variety to their performances.

Furthermore, the Dual playing mode also allows two different sounds, such as grand piano and strings, to be layered together, while the Split and Four Hands modes divide the keyboard into two independent sections. The volume balances for each playing mode can also be adjusted quickly and easily using the real-time panel controls.

Wide Range of Connectivity Options
The ES520 digital piano features a variety of standard connectivity options, with Line-level output jacks that allow the instrument to be enjoyed in larger settings such as churches and schools. Standard MIDI and USB to Host connectors ensure flexibility when using computers and other electronic instruments.

Integrated Bluetooth Connectivity
In addition to standard MIDI jacks for connecting to other instruments, the ES520 digital piano also boasts integrated Bluetooth MIDI and Audio technology that allows the instrument to communicate with supported smart devices wirelessly. Once connected to a phone, tablet, or laptop, ES520 digital piano owners can enjoy a wide variety of exciting music-related apps that enhance their learning and playing experience, or stream audio from songs and videos through the instrument's speakers without additional cables.

Specifications
Keyboard
Number of keys: 88 Key
Action: Hammer action
Key size: Full
Aftertouch / Velocity: Velocity Sensitive
Key Type: Piano-style
Sounds
Number of voices: 34
Polyphony (max): 192-note
Split: Yes
Connectivity
AUX input: No
MIDI connectivity: In/Out
Line output: Yes
Line input: Yes
USB Connectivity: Yes
Headphone jacks: 2
Pedal inputs: Yes
Expandability available: No
Onboard Features
Recording/Playback Yes
Preset songs: 23
Display: 128 x 64 pixel OLED
Effects: Yes
Built-in speakers: Yes
Other
Width: 52.75 in.
Height: 5.67 in.
Depth: 14.67 in.
Weight: 32 lb.
Power adapter: Included
Batteries: Not applicable
Stand or bench included: No
Features
Responsive Hammer Compact II keyboard action with grade-weighted keys and triple-sensor system
Progressive Harmonic Imaging sound technology with 88-key stereo sampling
34 authentic sounds, including acoustic pianos, electric pianos, organs, strings, bass etc.
Motherboard and amplification developed in partnership with Onkyo, 40W speaker system
Bluetooth MIDI and Audio functionality with aptX support for wireless communication and audio playback
Standard MIDI, USB to Host/Device, Audio In/Out connectivity
Support for latest PianoRemote control app for iOS/Android
Intuitive control panel layout with high quality OLED display
Stylish rounded case design and lightweight chassis weighing 32 lbs