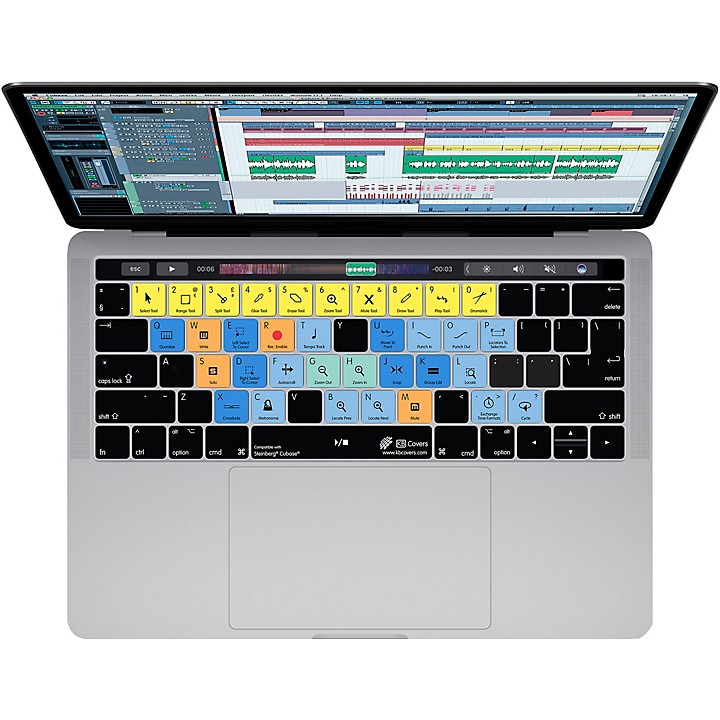 Color-coded design provides visual cues when working in Cubase.
Tired of memorizing all the keyboard shortcuts for Cubase? With this keyboard skin from KB Covers, you'll be writing, editing, recording and mixing on your Mac faster than ever before. This ultra-thin form-fitting Cubase keyboard cover includes color-coded shortcuts right on the keys. This allows you to spend more time creating, producing and performing your music and less time learning and memorizing program shortcut keys. Cubase keyboard covers are compatible with Cubase Pro 9 and earlier.
Cubase keyboard cover safeguards your keyboard from dirt, spills and wear and tear thanks to their ultra-thin precision fit. The fit also ensures they will not slip or slide as you type. Plus, Cubase keyboard covers are made of quality silicone that is hand washable, so it's easy to keep them clean. In addition, KB Covers Cubase keyboard covers have a silky smooth feel so they are soft and comfortable to the touch.
Features
For use with Cubase
Compatible with MacBook Pro (late 2016+) with touch bar