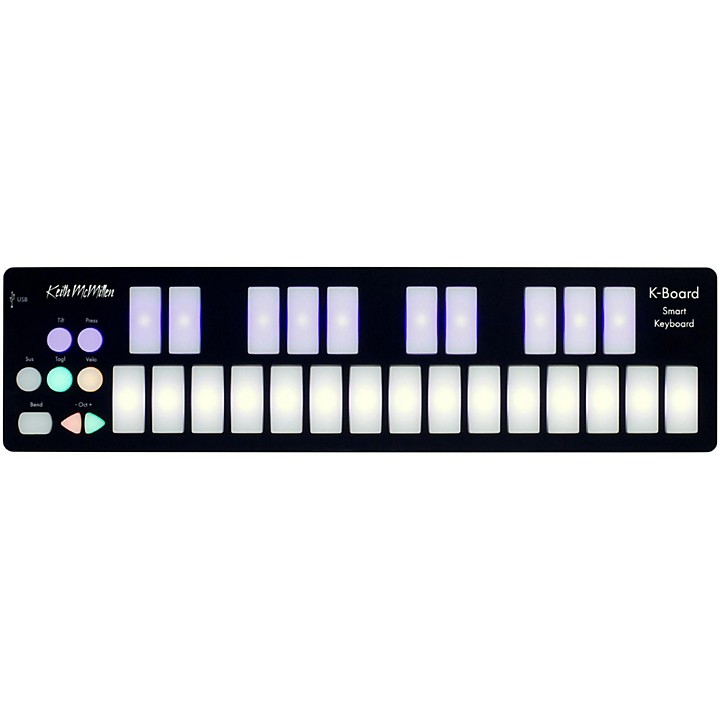 An easy way to make music on a computer or tablet.
K-Board is an unbreakable, ultraportable USB MIDI keyboard that works out of the box with Garage Band, Ableton Live, or any music application. K-Board has been tested to survive being run over by a car, dropped from a 2-story building, and more -- all without breaking. The LED backlit, touch sensitive keypads ignite creativity and add musical expression by detecting your velocity, pressure, and finger tilt. Just pull K-Board out of your backpack, plug the USB cable into a computer or tablet*, launch any music app, and you're ready to make music at your home, studio, the stage, or on the go.

* appropriate adapter required for use with tablet

Specifications
Included:
1. 1 K-Board controller
2. 1 USB cable (USB 2.0 A to Micro-B, 1 m)
Dimensions
1. Width: 12.8" / 325 mm
2. Depth: 3.3" / 84 mm
3. Height: 0.43" / 11 mm
Key Pads
1. 1.18" x 0.51" / 30 mm x 13 mm
WeightPower
1. K-Board is bus-powered via the USB port when connected to a computer or tablet.
Connections
1. USB micro jack
Sensors
1. 25 Key pads with velocity, pressure, and tilt sensitivity
2. 2 octave switching buttons*
3. 1 pitch bend pad
4. 5 mode buttons (velocity, pressure, tilt, toggle, sustain)
*K-Board defaults to a note range of 48 (C2) to 72 (C4). The octave buttons allow you to shift up another 3 octaves or shift down 2 octaves for a total range of 7 octaves (C0-C7).
LEDs
1. 32 LEDs with 16 levels of brightness

Features
LED backlit, touch sensitive keys
Ultra-durable and spill proof
Mac, Windows, iOS, Android
Plug & play with any music software
WARNING: Cancer and Reproductive Harm www.P65Warnings.ca.gov.