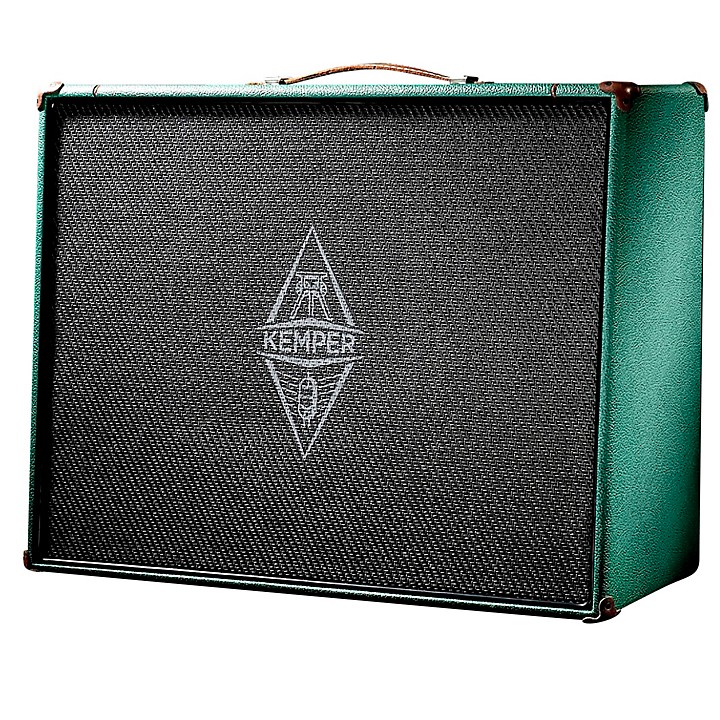 Step up to "amp in the room" sound for your Kemper modeler.
The Kabinet is a lightweight, unique and powerful speaker cabinet for the Kemper Profiler. In conjunction with the exclusive Kone speaker, the Kabinet offers a full range mode plus a choice of 19 different speaker characters (aka imprints).

The Kabinet is specially designed for the PROFILER. The Kabinet is a combination of the Kone loudspeaker and an extensive speaker tone mining technology developed by KEMPER, making it possible to digitally imprint various speaker characteristics onto one single cabinet.

The Kone is a 12" full range speaker which was exclusively designed in cooperation with Celestion for KEMPER. It is controlled and driven by the PROFILER's monitor output menu to an ultra-linear (full range) frequency response, using a dedicated DSP algorithm. In contrast to the conventional idea of a full range system, the radiation pattern of the Kone has been narrowed towards the physics of a classic guitar speaker chassis, so that even the full range sound carries a distinct guitar speaker character, unlike regular PA speakers or monitor speakers.

Among the imprints, you will find the finest choice of well-known guitar speakers from Celestion, JBL, Jensen and many more, as well as rare and particular speakers from other manufacturers like Oxford or Goodmans Audio. And more speaker imprints will be added via future software updates.

The Kabinet can be driven by the power amp of a PROFILER PowerHead or PowerRack, as well as by utilizing any external power amp. When using external stereo amplifiers, driving two Kabinets in stereo is possible. The PROFILER Stage also requires an external power amp to drive the Kabinet.
Specifications
KEMPER Kabinet
Height 42 cm (16.54 inches)
Width 51 cm (20.08 inches)
Depth 23 cm (9.06 inches)
Weight 11,30 kg (24.91 pounds)
Power Handling 200W rms
Impedance 4 ohms
KEMPER Kone
Dimensions 30.5 cm (12 inches)
Weight 3,90 kg (8.60 pounds)
Power Handling 200W rms
Impedance 4 ohms