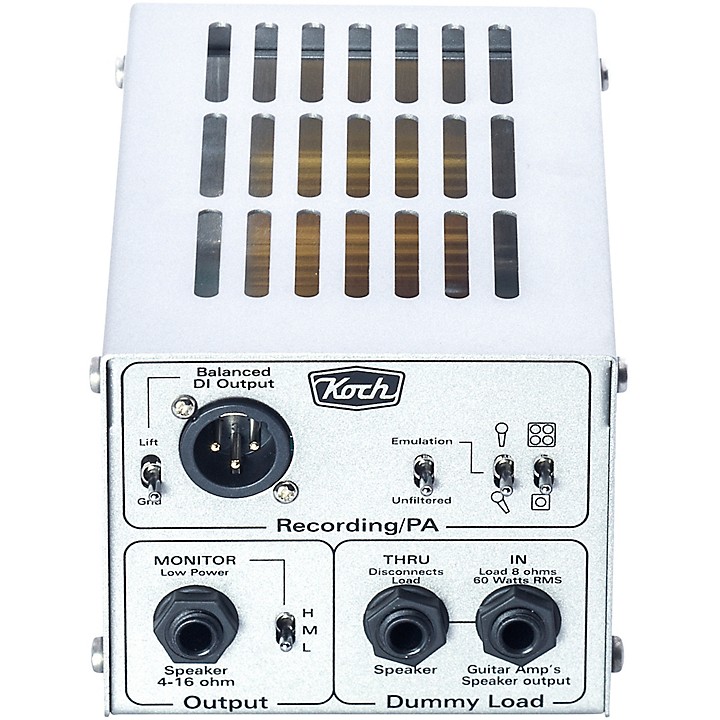 Deliver your signal directly from your amp, even without a cab.
The Koch Dummybox Studio/PA is an innovative multi-tool, which should be in every guitar player's toolbox. With the Dummybox Studio/PA, you can capture the sound coming from your guitar amp's speaker output and feed it into a recording system or PA, even when playing at low volume or without a speaker connected. When placed between your favorite amp and speaker the Koch Dummybox can capture every coloration to your guitar sound created by both the pre-amp and power amp section of your amplifier.

The Koch Dummybox Studio/PA can handle up to 60 watts of amplifier power continuously, with peaks up to 100 watts. The fully balanced XLR DI output sends a filtered or an unfiltered signal to the mixing console or PA. When the filtered signal is chosen, voicing switches provide you with various speaker-simulation options, such as the choice of microphone placement (on or off-axis), and type of speaker cabinet-emulation (1x12 or 4x12).
Specifications
Input: dummy load with 60 Watts continuous /100 watts peak power handling
Thru output: speaker output with no volume loss
Monitor output: low power speaker output with three selectable levels: 5% (H), 3% (M), 1% (L)
XLR output: professional transformer balanced 600 Ohms output, with ground lift switch
Switch for selecting filtered or unfiltered output signal
Voicing switch for selecting the type of speaker cabinet: 1 x 12" or 4 x 12"
Voicing switch for selecting microphone placement: axis or off-axis
Heavy-duty steel housing
Maximum load at line output: – 20K Ohms