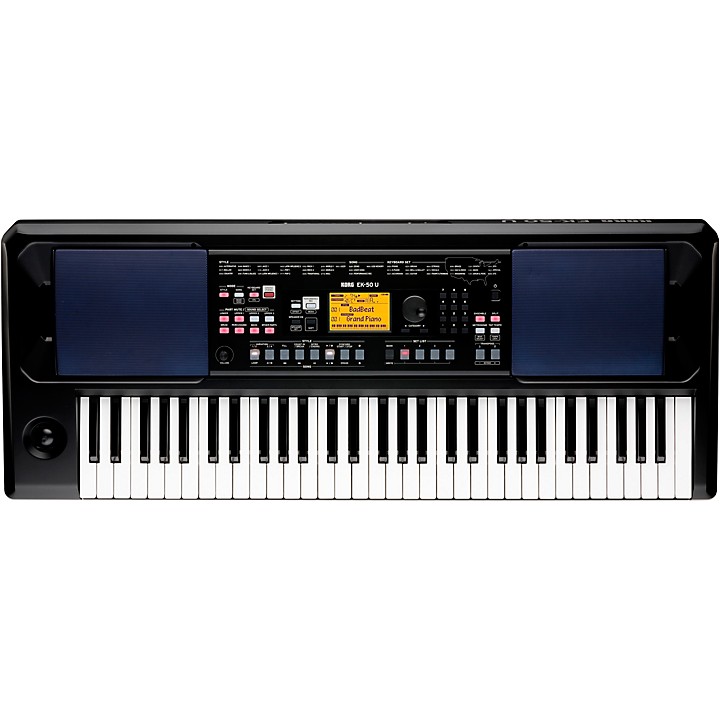 61-key keyboard containing traditional and modern American styles and sounds.
The Korg EK-50 U keyboard features inspiring styles and sounds focused on classic and modern American popular music. The 61-key EK-50 U builds on the success of the original EK-50 by adding authentic American styles ranging from jazz and modern country to alternative, dance and rock music. The EK-50 U is simple to use and allows your musical ideas to evolve effortlessly into complete, ready-to-play songs with auto-musical accompaniment that follows your chord changes. Styles provide an entire backing band as you play the keyboard, and high-quality sounds inspire you to add phrases as they come to mind.

The EK-50 U includes sounds with a focus on electric and acoustic guitars, electric basses, brass and drum percussion kits. With a total of 51 custom drum kits and a complete MIDI GM2 sound set, the EK-50 U is a capable instrument no matter where your music takes you. Calling up any of the 200 factory Keyboard Sets allows up to four sounds to be played at once: three layered across the upper keys, and one split to the lower keys. A high-fidelity PCM sound engine and two stereo effects processors make the EK-50 U capable of creating expressive music with motion and depth. There is also a convenient Grand Piano button located on the main panel, which means you can instantly recall a beautiful acoustic piano sound at any time. Simply put, the EK-50U is an Arranger Keyboard with American flare that you can enjoy on any musical level.

Specifications
Keyboard: 61 keys (velocity sensitive)
Touch Control: Soft (light), medium (standard), hard (heavier), fixed
Sound Generator: Stereo PCM sound generator
Maximum Polyphony: 64 voices
Keyboard Sets: More than 170 sets
Accompaniment part: 2 stereo digital multi-effects
Keyboard part: 2 stereo digital multi-effects
Features
Total of 727 sounds: 662 sounds from the original EK-50 + 65 sounds specific to the EK-50 U
EK-50 U features sounds with a focus on electric and acoustic guitars, electric basses, brass and drum percussion kits
Total of 51 Drum Kits: 33 from the original EK-50 + 18 kits specific to the EK-50 U
288 effect styles included 88 effect styles added for EK50-U
Styles include favorite American genres such as Alternative and Modern Rock, Southern and Latin Rock, Country, Blues Reggae and more