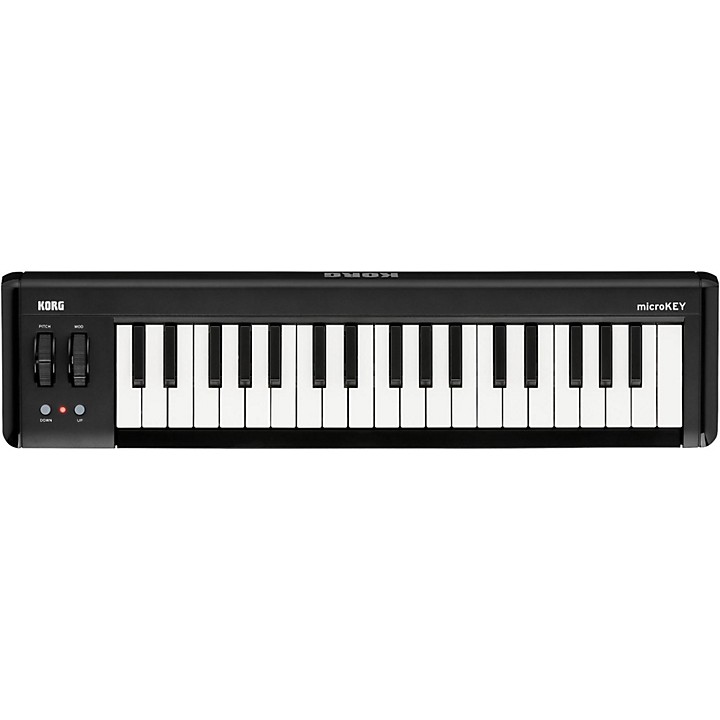 A refreshing look at KORG's best-selling microKEY Series.
With all of the endless options, configurations and choices that modern technology offers musicians today, in the end, the simplest solution is often the best solution. An uncomplicated, straightforward design, compact size and easy connectivity made the first-generation microKEY series a best-seller. Now, KORG's microKEY2 37-key compact MIDI keyboard retains those attributes and adds iPad and iPhone support (with Lightning to USB camera adaptor, sold separately), plus a damper pedal jack for improved playability.

In all, the microKEY series has evolved to become even more convenient and versatile, making it an ideal choice for first-time and more established players alike. Whether you're producing in the studio, or creating on the go, the microKEY2 will give you exactly what you need—and nothing you don't.

Compact and playable Natural Touch mini keyboard
KORG's Natural Touch mini keyboard has been carefully designed to assure playability while staying compact, and makes it easy to play chords or rapid phrases.

Connect with a single USB cable*; supports Mac, Win, iPad and iPhone
Since the microKEY2 is USB bus-powered, you only need a single USB cable to connect it to Mac or Windows. There's no need to install a driver; just connect it to your computer and start playing. This second-generation model supports connection to iPad and iPhone. Add an Apple Lightning - USB camera adaptor and one USB cable and your setup is complete, allowing you to access apps such as KORG Gadget, KORG Module and GarageBand.

* For connection to the iPad/iPhone, use the Apple Lightning - USB camera adapte.

Connect a pedal, and enjoy full control functionality
This 37-key models provide an assignable switch jack for connecting a damper pedal.
You can also use the octave buttons in conjunction with the key transpose function to play MIDI's entire range of notes. It also comes with pitch bend and modulation wheels.

Powerful music software bundled free of charge
The microKEY2 comes with a serious collection of powerful music software titles, including popular special editions of KORG Gadget and KORG Module, plus the KORG Legacy Collection, which offers five classic KORG instruments as plug-ins. With microKEY Air you won't have to purchase additional software; you can start creating music right away.