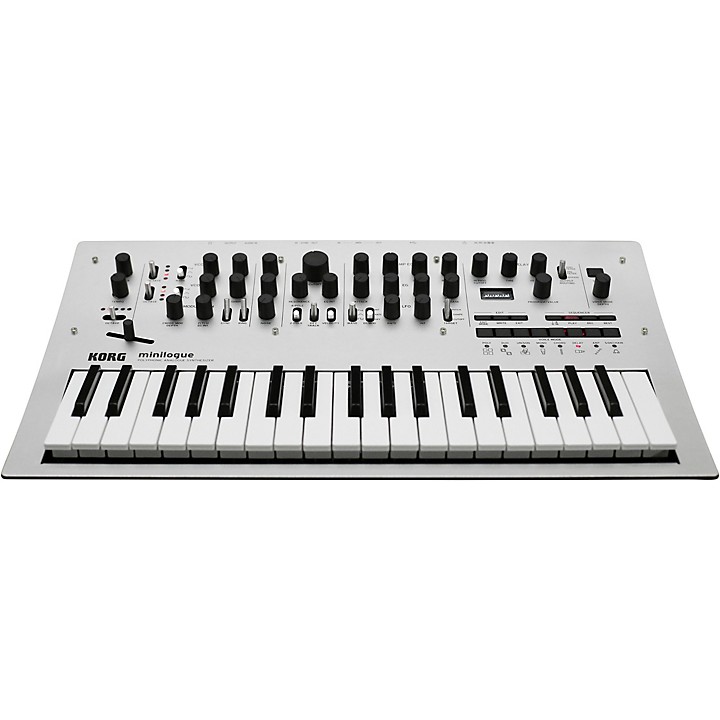 Fully programmable 4-voice analog synthesizer with 37 slim keys.
The minilogue is not a refresh of an old-time favorite, but instead a completely original concept that's been elegantly designed from the ground-up for today's modern producer. There's nothing to emulate, nothing to model after, just 100% pure analog synthesis that is fully programmable for a seemingly endless possibility of sound creation. Find inspiration it its sound with features including a polyphonic step and motion sequencer, on board tape-style delay, multiple sound shaping and filter options, and an oscilloscope display. All of these seamlessly integrated features make minilogue as fun and easy to use as it is powerful. It's the next-generation analog synthesizer for musicians of all types.
True Analog Sound

The synth circuits for minilogue are all new ground up designs, delivering a synthesizer experience like no other. Unprecedented in this class, it's a four-voice polyphonic true-analog synth with an interface that's designed for accessibility. Whether you're performing live or producing in the studio, the minilogue is the fastest way for the user to explore and implement real analog synthesis in any situation.
The structure consists of 2VCO, 1VCF, 2EG, 1VCA, and 1LFO. The minilogue's unique wave shape capability lets you fine-tune the oscillators' harmonics, creating the most divine sounds and compositions. The minilogue is also equipped with a variety of powerful types of modulation including cross modulation, oscillator sync, and ring modulator, as well as a delay with a high-pass filter. Powerful sound creation and rich variety are the true hallmarks of an analog synthesizer.
Polyphony and Presets—Perfect

minilogue goes beyond analog synths in its price range by adding 200 preset locations. Select a program for instant access to great sounds—ranging from thick basses and deep pads, to brilliant polyphonic leads and atmospheric sounds. No need to have deep synthesis knowledge; just choose a sound and tweak— a workflow that is very familiar with musicians today. For those who want to dive deeper into the heart and soul of minilogue's engine, the minilogue can hold 200 programs; with 100 editable factory programs included, and 100 locations serving as blank canvases on which to create your next analog masterpiece. Each preset can also hold a step sequence and delay settings along with the sounds you create.
Voice Modes

Selectable voice modes let you freely configure the four voices for performance. The voices can be set to 4-note polyphony for chords or layered for thick basses and leads. Other modes cover a range of sounds from octave shifted bass explosions to delicately staggered layered triggering.
Eight Voice Modes:
POLY - operates as a four-voice polyphonic synthesizer
DUO - operates as a unison two-voice polyphonic synthesizer
UNISON - operates as an all-unison mono synthesizer
MONO - operates as a mono synth with sub-oscillator
CHORD - produces chords
DELAY - voices 2-4 sound consecutively at a delay following voice
ARP - an arpeggiator operates with up to four voices
SIDE CHAIN - when a note sounds, the volume of the preceding voice is lowered

16-Step Sequencer

Get creative with the intuitive 16-step sequencer with motion sequence recording capabilities, and make your sound truly come to life. The minilogue provides real-time recording with overdubbing, and step recording that lets you record simply by consecutively specifying notes, giving you a great way to create phrases and performances.
Oscilloscope Visualizes the Sound

The OLED display will show the waveform as you sculpt your sound. Visual feedback is both educational and entertaining, and represents a first on a hardware synthesizer.
Build Quality

The uniquely curved, sand-blasted 2mm aluminum front panel, metal shaft potentiometers, solid, chassis-mounted metal shaft potentiometers and rubber-coated knobs give the roadworthy minilogue a standout look and feel to complement its powerful and dynamic sound creation capabilities.
Sync with groove machine.
Specifications
Keyboard
Number of keys: 37
Key size: Slim
Aftertouch / Velocity: Velocity Sensitive
Sounds
Polyphony (max): 4 voices
VCO: 2
VCF: 1
Envelope Generator (EG): 2
LFO: 1
Mixer: VCO1, VCO2, Noise
Included presets: 100
User preset slots: 100
Connectivity
Output: Mono
MIDI Connectivity: MIDI In/Out
Line input: Yes, mono
USB Connectivity: Yes
Headphone out: Yes
Other: Sync
Onboard Features
Sequencer: 16-step
Arpeggiator: Yes
Display: OLED oscilloscope
Controls: 41
Effects: Yes
Pitch bend/Modulation: Pitch bend
Other
Width: 19.7 in.
Height: 3.4 in.
Depth: 11.8 in.
Weight: 6.7 lb.
Features
Fully programmable, with 200 program memories (100 sounds included)
Voice Mode lets you flexibly configure the four voices
Automatable 16-step polyphonic note and motion sequencer
Oscilloscope function shows the waveform visually
Aluminum top panel, chassis-mounted pots, rubber-coated knobs, and real wood back panel