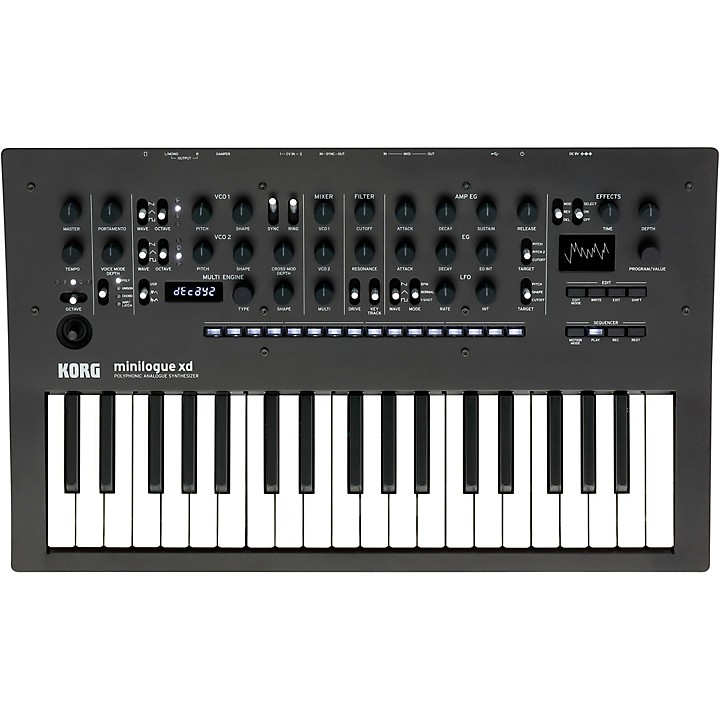 The next-generation minilogue with prologue MULTI engine, expanded sequencer, onboard digital effects and more.
When the original KORG minilogue was launched it was an instant hit. It was one of the most affordable and intuitive synthesizers in its class, making complex synthesis easier for beginner sound designers to grasp while still remaining a powerful tool for pro users. With the introduction of the minilogue xd, KORG is expanding on the original design with a digital multi-engine, onboard digital effects, improved sequencer and micro tuning functionality, making this a mighty successor to the groundbreaking original.

Analog synthesizer circuit that shatters expectations for its class
4-voice polyphonic analog synthesis. The analog synthesizer circuit of the minilogue has been further developed for the minilogue xd. The voice structure of the minilogue xd consists of 2VCO + MULTI ENGINE, 1VCF, 2EG, 1VCA, and 1LFO. In addition to the distinctive circuits found in the series, such as wave shaping to shape the overtones of the oscillator and a sync/ring switch, there's also cross modulation, a sharp two-pole filter, and a drive switch that adds thickness and drives signal into minilogue xd's filter. Every parameter has been tuned in detail based on what musicians want out of their synth. The sounds range from the warm pads typical of analog to fat basses and crisp lead sounds, covering every situation. Of course, programs that you create can also be saved in the unit. Out of the box, minilogue xd comes loaded with 200 presets, and a total of 500 programs can be saved.

Equipped with a digital multi-engine
To take its sound shaping capabilities even further, minilogue xd introduces a digital multi-engine that provides a third oscillator in addition to the two analog VCOs. The engine is equipped with three different types of sound generators (noise, VPM and user slot) letting you take advantage of a sonic character that's different than analog, and use it at the same time as the analog engine, infinitely expanding the potential of hybrid sound design.

Noise generator
The noise generator provides four types of noise that are indispensable for percussive sounds or for sound effects. You can use the digital filter to directly change the color of the noise.

VPM oscillator
The VPM (Variable Phase Modulation)/FM oscillator can produce sharp, metallic sounds with complex overtones beyond the possibilities offered by analog systems. With 16 types of oscillator and a SHAPE knob control, you'll be able to create complex sounds intuitively.

User oscillators
User oscillators allow you to load your own oscillator programs that you created or obtained via the internet. There are 16 user slots, as well as one type of morphing wavetable oscillator provided as a preset.

High-quality digital effects
minilogue xd's high-quality digital effects use 32-bit floating point DSP processing, adding a finishing touch to its deep sound design platform. The three types (modulation effects, reverb and delay) can be used simultaneously, letting you choose from a wide range of variations including chorus, ensemble, warm tape delay and a diverse variety of reverb. The user effect slots allow you to load your own effect programs that you've created.

User customization brings out infinite potential
The minilogue xd features a customizable open environment. The unit comes with 16 user oscillator slots and 16 user effect slots that you can customize. Oscillators and user programs that you've created with the SDK (Software Development Kit) can be loaded into the minilogue xd via the dedicated librarian software. What sounds might arise from the fusion of the expanded digital oscillators with analog synthesis? Create original programs, share code, and participate in the user community. You can start with sample code provided by KORG.

Polyphonic step sequencer controlled by 16 buttons
The step sequencer provides 16 steps and supports both realtime recording and step recording. You can use the 16 step buttons to select a step directly, allowing quick editing to replace the pitch of a step or to mute it, or even improvisatory performances. Motion sequence lets you record the movements of up to four knobs, adding time-varying change to the sound, and you can record not only smooth changes in value but also values that change precisely at each step. You can use this to design the sound differently at each step; for example, you might create a drum pattern or sound effect from just a single program.

A thoughtfully designed interface
Joystick
Controls pitch bend and modulation depth, etc. The desired parameter can also be assigned to the up/down axis.

4 Voice Modes
- POLY: The minilogue xd operates as a 4-voice polyphonic synth
- UNISON: The unit operates as a monophonic synth, with the four voices working in unison
- CHORD: Chords are produced using one to four voices
- ARP/LATCH: (ARP) Provides an arpeggiator with up to four voices that can also be used while the sequencer is running/(LATCH) Switches latch on or off

Voice Mode Depth Knob (applies a corresponding effect for each mode)
- POLY: Turning the knob toward the right switches to DUO mode and deepens the detune
- UNISON: Turning the knob toward the right deepens the detune
- CHORD: Selects mono or chord type
- ARP / LATCH: (ARP) Selects the arpeggiator type

Micro tuning
The minilogue xd is equipped with the micro tuning function featured on the monologue, allowing you to individually adjust the pitch of each key. There are also 23 preset tunings built-in, including some created by Aphex Twin and Dorian Concept, and users can also create and store six user scales and six user octaves. Start by trying out the preset tunings of famous musicians, and then advance to creating your own original tunings.

Oscilloscope and motion view display
The organic EL display is now larger, and also provides oscilloscope functionality for you to view sound as the electrical signal's waveform. This makes parameter changes visible in real time, giving you visual feedback that helps you understand how the synthesizer works. The display can also show motion view for visualizing the movement of a stored motion sequence.

Features
37 slim keys with velocity sensitivity
Analog sound generator + Multi digital sound generator (Noise, VPM, User)
4-voice polyphony with four separate voice modes (POLY, UNISON, CHORD, ARP/LATCH)
Fully programmable, with 500 voices (more than 200 preload, 300 user programs)
16-step polyphonic sequencer with 16 individual step buttons
Built-in digital stereo effects including modulation, reverb and delay
Digital LED display and real-time OLED oscilloscope for visual feedback of parameter changes
Enhanced connectivity with stereo outputs, CV input and more