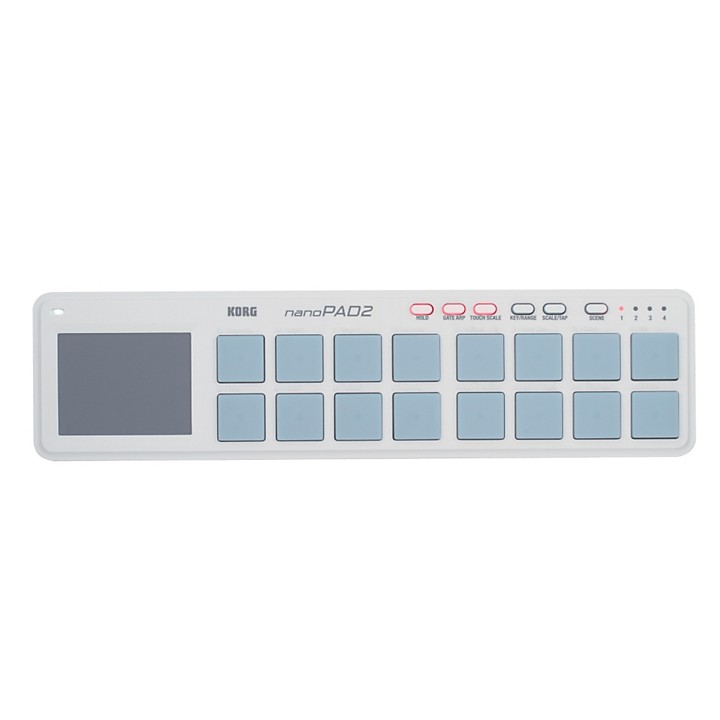 Ultra slim pad controller.
Like all nanoSERIES2 controllers, the nanoPAD2 had to be compact, lightweight and sized to work well with any laptop or desktop computer. In addition, the nanoPAD2 also had to pack in 16 great-feeling and dynamic-sensing pads - as well as leaving room for the X-Y touchpad! The Korg nanoPAD2 does all this and more. In fact, there are four banks of pad assignments, providing a total of 64 pad assignments.

Dynamic trigger pads capture all your performance nuances
The sixteen velocity-sensitive pads provide excellent response to your fingertips, and also realistically convey the playing feel to your sequencer or DAW software, ensuring that your drum parts will be full of life. By switching between the four scenes, you can experience 64 different pad assignments.

Create musical phrases using the X-Y touchpad, Touch Scale, and Gate Arp features
The X-Y pad can be used to control multiple synthesizer parameters. In addition, the new "Touch Scale" function lets you intuitively play phrases on the X-Y touchpad, just as on the Kaossilator. You can choose from sixteen different scales, and specify the root key and note range to ensure that your performance stays within your song. The "Gate Arp" function, borrowed from the Kaossilator Pro, transmits note data based on tempo; Tap tempo and tempo sync are supported. Combined with the Touch Scale, the Gate Arp allows you to play tempo-synchronized phrases and rhythms simply by stroking the X-Y pad or playing the pads.

Korg Kontrol Editor software
The nanoPAD2 works with the "Korg Kontrol Editor" software - available free on the Korg website. Load it into your computer, and use it to make detailed customized settings. Choose from a total of four velocity settings: three velocity curves or fixed velocity. You can also specify note numbers, create user scales for the Touch Scale function, assign chords, assign control change messages, and save your settings.

USB power for an uncluttered setup
Just connect a single USB cable from your computer to the nanoPAD2, and you've got a quick and portable music production system. Power and USB-MIDI data travels down the same wire for a clean, efficient workspace.
Features
Low-profile pad controller - excellent for playing or entering drum data
Sixteen solid, responsive, and velocity-sensitive trigger pads
Control multiple MIDI parameters via the X-Y Touchpad