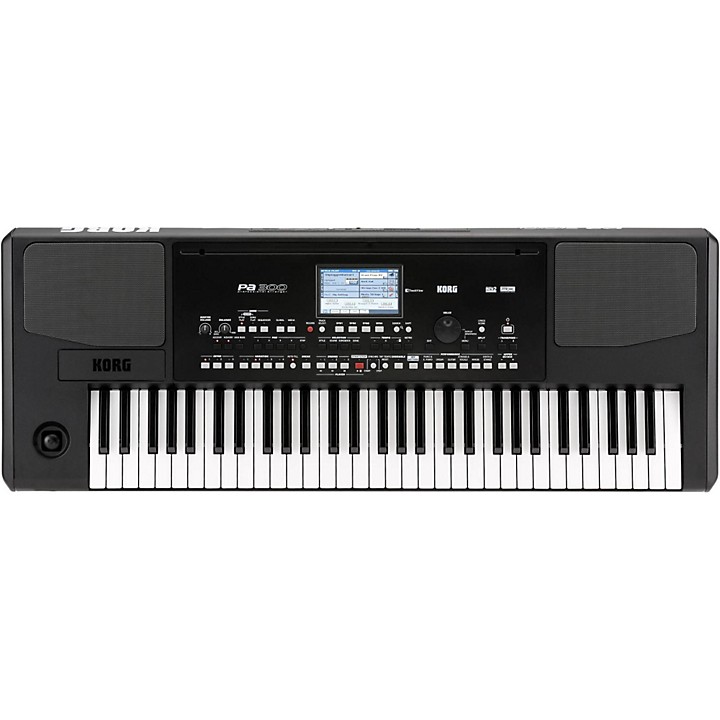 KORG continues its distinguished arranger line.
KORG has long been at the forefront of realtime arranger technologies. The state of auto-accompaniment has come a long way in recent years to a point where the preset arrangements that the best of the new machines generate are often superior to anything the user would be inclined to put together given the amount of time required. As a result, keyboards like the KORG Pa300 are viable not only for live entertaining, but for professional songwriter demos as well.

The Pa300 is the latest keyboard in the KORG Pa Series of internationally acclaimed and bestselling musical arrangers. It's compact, inexpensive and powerful, with the most up-to-date collection of quality sounds and Styles. Using the built in Styles, you can quickly and easily play along with a backing band or even create your own music. The Pa300 is not only fun to play any time you like, but it's the ideal way for people of all ages to write and perform music.

Sound quality
It all begins with the sound. KORG sound quality is universally recognized as superior, and relied on by musicians around the world. First in its class, the Pa300 delivers an even richer, more detailed, sophisticated natural sound than ever before, with musical instruments from almost every genre brimming with depth, nuance, subtlety, accuracy and richness. Over 950 sounds are preloaded, including a renewed GM soundset, and 64 drum kits. There is also an amazing multilayer stereo acoustic piano, accurately sampled from a Concert Grand, which includes string and damper pedal resonance. Sounds are fully editable and changes can be saved in the User area.


A full complement of Effects
Of course great sound is about more than the instruments. For many years, KORG has produced outstanding studio quality effects that are simply breathtaking. The Pa300 has four Stereo Master Effects processors, with 125 of these effects including standards such as Reverb, Delay and Chorus and some of the universally acclaimed REMS guitar based effects for authentic guitar tones. Each Track features an EQ with Low, Mid and High controls. A custom track EQ can be memorized in the general preferences for the Song Play mode. This will help adapting the sound to personal taste for any MIDI file you play. Need a lighter bass track? Save the right equalization, and the bass will stay light with all the subsequent Songs.

Styles are professional quality
Matching this high sound quality, the Pa300 delivers a new set of deluxe Styles, programmed by some of the leading arrangers in the world; each one bringing unique musical strengths. The result is hundreds of preloaded Styles that provide unparalleled realism and detail. Covering an expanded range of musical genres, the Pa300 gives you Styles for almost every important occasion.

Easy to use
With all the technological power packed inside, it was vital that we also made the Pa300 easy to understand and easy to use. But even more, we wanted the entire user experience with the Pa300 to be an intuitive, musical, fast, fool proof process. The panel layout has been revised and our graphical user interface uses an amazing Graphical Color Touch Screen so you simply think, point and click for easy and intuitive use.

There are two interface modes so that a musician of any level can start making great music quickly: Easy and Expert. The Easy mode shows only the most important controls, while keeping a clean and straightforward interface, useful for beginners or playing live. Nothing stands between you and your professional performance. Of course, in Expert mode you have full editing control.

Your live performances will work the way you want, and when you do not remember where a file, a Song or a Style was saved, just use the Search function to let Pa300 find it for you.

A final 4-band parametric EQ is added to the sound output of the Pa300. Everything can be processed by this powerful and musically refined EQ, easily adapting the sound to your musical taste or correcting a problematic live context.
Specifications
Keyboard: 61 keys, velocity sensitivity is supported
System: Upgradable Operating System, RX (Real eXperience), Multitasking, Load while play feature
Tone Generator: 128 Voices, 128 Oscillators. Filters with Resonance, 3-band EQ for each track
Effects
Up to 4 Stereo Digital Multi-Effect block systems, 125 Master Effect types,
Master 4-band Parametric EQ
Sounds / Drum Kits: More than 950, including Stereo Piano and GM2 sound compatibility, 64 Drum Kits
User: 256 Sounds, 128 Drum Kits
Styles: Factory: More than 310 Preload Styles
User: Up to 1,040 available Style locations including the Favorite/User banks
Structure: Eight Style tracks, 4 Single Touch Settings, 4 Pads, and one Style Performance per Style
Style Controls: 3 Intros, 4 Variations, 4 Fills, Break, 3 Endings, Auto fill, Synchro Start/Stop, Tap Tempo/Reset, Manual Bass, Bass Inversion, Memory, Accompaniment On/Off, Kick & Snare Designation
Style Others: Guitar Mode 2, Parallel and Fixed NTT
Performance / STS
240 Keyboard Performance locations, My Setting special Performance
STS: Memorize Keyboard tracks - Up to 4 x 1040 Styles, up to 4 x SongBook entries
Keyboard Tracks
Four Keyboard tracks (Upper 1, 2, 3, Lower)
Pads: 4 Pad tracks + Stop button
Song Play: Player with select, Start/Stop, Home, Rewind and Fast Forward controls
Jukebox function - Compatible with SMF (format 0 and 1) and MP3 - Lyrics (compatible with CGD), Score
MP3 Player: Transpose (+6/-5 semitones), Tempo change (±30%)
Sequencer
Quick Record (Backing Sequence)
Multitrack and Step Record functions - Full-featured sequencer - 16 tracks - Up to 100,000 events
SMF format
SongBook
Fully programmable music database, based on Styles, SMF, Karaoke, MP3 with automatic selection of Style Play and Song Play modes - User-definable custom lists - Filtering options
Search: Style, Song, Performance, SongBook, Sound and Lyrics TXT
Compatibility: "i-Series" models: Styles, "Pa series" model Style, Performance, Sound, Song, SongBook, Pad
General Controls: Master Volume, Real Time-Acc/Seq Balance Volume, Ensemble, Upper Tracks Octave Transpose, Master Transpose, Tempo Lock, Quarter Tone Arabic Scale, User Scale memorized inside Performance/STS, Search, Lyrics, Score, Dial, Tempo, Metronome, Split, Joystick

Connections
Control Inputs: Assignable Pedal/Footswitch (Damper)
Headphone outputs: Unbalanced Stereo Jack
MIDI
USB to MIDI using the USB Device port - 8 user definable MIDI Presets
USB
USB-MIDI Interface
Type A (TO DEVICE): 1 (Rear)
Type B (TO HOST): 1 (Rear)
2.0 Hi Speed connections
Mass Storage: USB Memory Stick
Display: Color TouchView 5" (480 x 272 dots) TFT display
Speaker System
Amplification: 13W x 2
Speakers; 10cm x 2 Double Cone Speakers in Bass Reflex Box
Power
Power Supply: AC 100-240 V
Power Consumption: 18W
Dimensions: 40.55" x 14.89" x 5.00"
Weight: 18.41 lb.
Accessories
Quick Guide, Music Stand, External Power Supply Adapter and Power Cable, Accessory DVD (Including Video Manual)
Features
Great sound
Professional-sounding accompaniment
Many different styles
Compact and lightweight
Top-quality effects
Sustain pedal sold separately