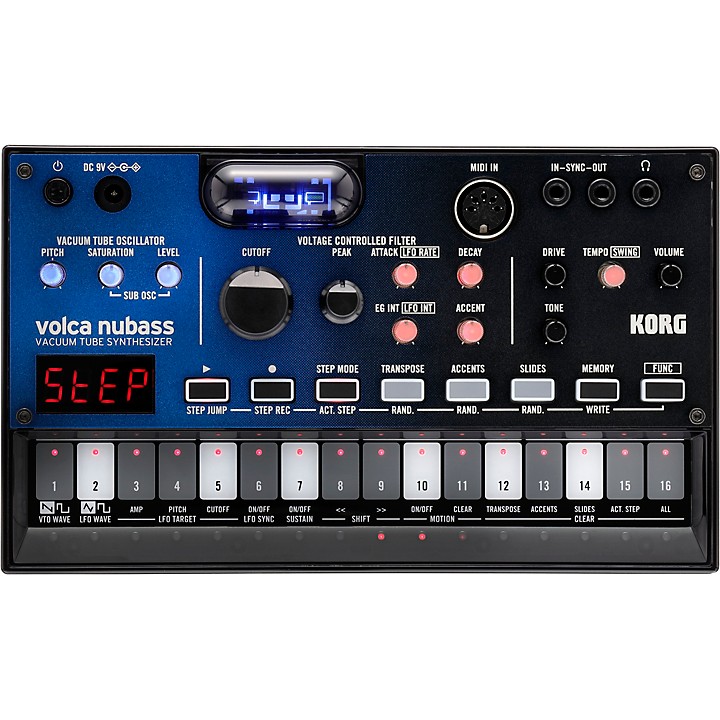 A mighty new sound in bass.
The KORG volca nubass is a powerful bass synth with a sound source based around a vacuum tube oscillator. It is an acid bass monster that outputs the ultimate in bass modulation and distortion. There is nothing like the howl and growl of a vacuum tube, and even with the quality of contemporary sampling and modeling, the harmonics and distortion produced by analog vacuum tubes has not been captured to the satisfaction many music makers. This distinctive sound has a quality beyond words that sets it apart, and cannot be captured by a response curve; it's the unmistakable sound of tubes.

The volca nubass is the first analog synth to be equipped with a Nutube new-generation vacuum tube in its oscillator. Vacuum tube plus analog means that the sound is warm, thick, and rich. The familiar transistor ladder filter gives it the character of a classic bass machine, along with overdrive, and huge-sounding distortion. An acid bass machine for a new generation, it combines classic sound with the power of modern synthesizer design. It's the volca nubass.

Vacuum Tube Oscillator with a Classic Ladder Filter
A vacuum tube oscillator circuit forms the heart of volca nubass, utilizing groundbreaking Nutube technology. The Nutube contains two independent triodes; one is used in the oscillator to generate a sawtooth wave or square wave. The other triode is used in the drive circuit of the sub oscillator, adding depth and warmth one octave below the oscillator. This oscillator and sub oscillator provide a circuit structure that brings out the harmonic character that only a real vacuum tube could provide.

Transistor Ladder Low-Pass Filter
The low-pass filter defines the sound of this bass machine; it uses a transistor ladder design found on classic analog bass synths. This filter is uniquely dynamic in the way it affects a sound more than just ranging from bright-to-dark. Its wide range of timbral possibilities makes it ideal for a broad variety of dance music; you can use it to create the distinctive modulation that can be heard in acid house, or increase the resonance to bring out a sharp character that's appropriate for techno.

Analog Driver Circuit
The volca nubass is equipped with overdrive that uses an analog circuit reminiscent of a classic stompbox. Turning the knob toward the right compresses the volume while causing mild distortion, adding thickness to your bass sounds. The tone knob also lets you adjust the crispness of the high-frequency range.

16-Step Sequencer
The volca nubass is equipped with a full-fledged 16-step sequencer that has a variety of functionality; by using it in conjunction with a rhythm machine, you can construct rhythm tracks or loop music.

You can use the 16 buttons for step input just like the rest of the volca series, or play the buttons as a keyboard for real-time recording. The chain function lets you play back multiple sequence patterns in succession, allowing you to loop up to 16 sequences.

The motion sequence function can record knob movements, applying parameter changes over time to the sound. This can be used when creating loops, or for live performances that are dynamic and original. Up to 16 sequence patterns together with motion sequences can be saved in internal memory.

Excellent Playability - Connections to sync with KORG groove machines and other gear
Using volca nubass' sync in and out, you can connect it to another volca series unit or to equipment such as an electribe, any KORG "logue" synth, or the SQ-1, and enjoy synchronized playback with the sequencer. There's also a standard MIDI IN connector, so you can use the volca drum as a sound module for your DAW. Compact, size, battery operation, and built-in speaker mean that you can take this unit anywhere and enjoy playing on the go.

Free Software
The volca nubass comes with a diverse variety of music software from Izotope including "Ozone Elements" which lets you not only create songs but also master them using AI, "Skoove" which will help you improve your keyboard playing skills, "Reason Lite" DAW software, as well as software synths from KORG and other brands. The moment you get your hands on this synthesizer you'll have a variety of tools to help you take your music to the next level.
Specifications
Synthesizer
Type: Analog synthesis
Maximum Polyphony: 1
Structure: VTO (oscillator, sub-oscillator), VCF, VCA, EG, LFO, Overdrive
Sequencer
Number of parts: 1
Number of Steps: 16 (pattern chain is available)
Number of Recording Patterns: 16 (No.1–10 are factory preset)
Connectors
Audio Output: Headphones (3.5mm stereo mini jack)
Sync Sync In (3.5 mm monaural mini jack, Maximum input level: 20V), Sync Out (3.5 mm monaural mini jack, Maximum Output level: 5V)
MIDI: MIDI In
Power
Battery Life: Approximately 8 hours (using alkaline batteries)
Power supply: AA alkaline battery x6, AA nickel-metal hydride battery x6, or AC adapter "KA-350" (optional)
Dimensions
(WxDxH): 193 x 115 x 46 mm / 7.61" x 4.54" x 1.82"
Weight: 370 g / 0.82 lb. (Excluding batteries)
Apps for iPad/iPhone
KORG Gadget Le (music production studio DAW app)
KORG Module Le (piano/keyboard sound module app)
Software for Mac/Windows
KORG Collection - M1 Le (synthesizer sound module)
UVI Digital Synsations (synthesizer sound module)
AAS Ultra Analog Session (synthesizer sound module)
AAS Strum Session (acoustic guitar sound module)
AAS Lounge Lizard Session (electric piano sound module)
Propellerhead Reason Lite (DAW music production software)
Skoove free 3 month trial of Skoove Premium (online piano lesson)
KORG Gadget Le for Mac (DAW music production software)
iZOTOPE Ozone Elements (Audio Mastering Plug-in Software)
Features
Powerful bass sound
16-step sequencer
Vacuum tube built in
Free software