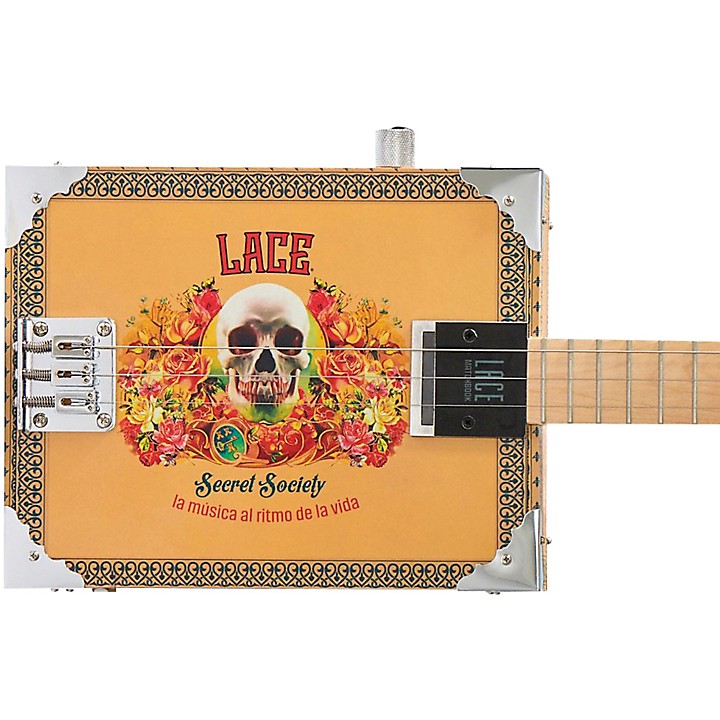 Cigar box guitar with Secret Society design.
Lace Music announces the 2019 collection of Cigar Box Guitars featuring the patented Matchbook Pickup. The new Lace Cigar Box Guitar has a fresh sound, designed for ease of play. It is capable of effectively delivering rock, alternative, country, blues or jazz music with a gripping tone and striking authenticity. This is the three-string model with the Secret Society design.

Matchbook Pickup
The Matchbook is the first patented pickup designed specifically for the Cigar Box Guitar using Lace's Alumitone "Current Driven" design. The Matchbook is designed to resemble an actual Matchbook with the one magnet featured as the "striker".

Quality Build
Lace Cigar Box Guitars maintain Lace's hand-built approach to guitar building. Both the box and neck are made with high-quality materials, including a double truss hard-rock maple neck for stability. The bridge features a steel plate design offering 20mm of adjustability for perfect intonation of each string. The tuners are open-gear type, reminiscent of classic vintage instruments and sport a 14:1 gear ratio.
Features
Mahogany and hard-rock maple construction
Open-gear 14:1 tuning machines
Individual string height adjustment
Matchbook pickup with cool design and output