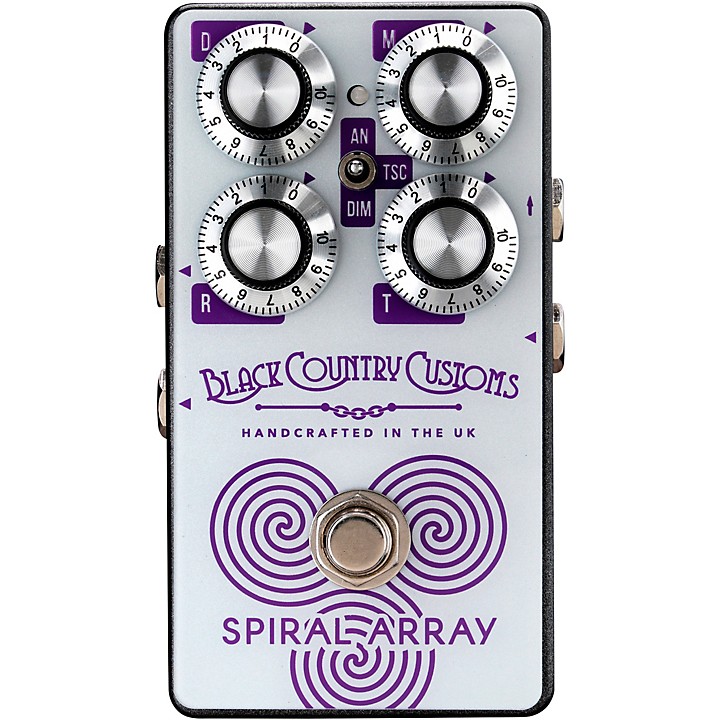 Three classic chorus effects in one pedal.
The Spiral Array is a chorus pedal with a difference ... it is actually three distinctly different chorus pedals in one box. The Spiral Array houses three classic chorus sounds, painstakingly recreated from the classic chorus era of the mid-'70s to the mid-'80s. It's an analog chorus based on a thick, lush 1976 Boss CE1, a spatial digital chorus based off the 1979 Roland Dimension D and the renowned uber-rich-sounding 1985 Dytronics Tri Stereo Chorus, all together at your feet.

The Spiral Array features tri-colored LEDs to give you a clear visual reference to which mode your pedal is running in on a dark stage. It is also important to note when you activate an effect there is no switching noise.

Specifications
Dimensions (HxWxD): 60 mm x 75 mm x 125 mm
Weight: 0.38 kg
Features
Based on three classic chorus effects:

1976 Boss CE1
1979 Roland Dimension D
1985 Dytronics Tri Stereo chorus
3 distinct modes
Analog, Digital & Tri Stereo chorus
PSU available
Transparent
Expression pedal control
Solid metal chassis construction