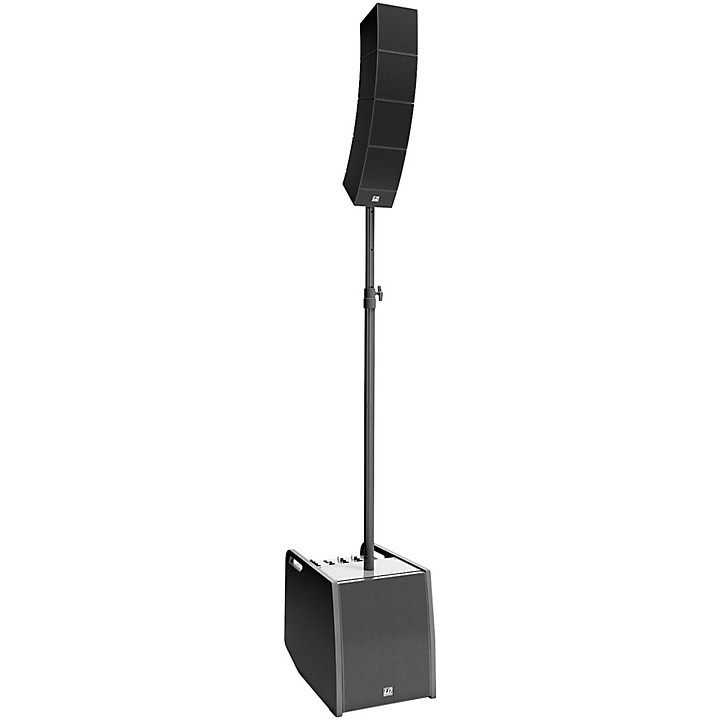 Add 1,200W additional power to your CURV system's low-frequency output.
The LD Systems Power Extension Set lets you upgrade your CURV 500 Entertainer Set for more power in the low-frequency range. Visually aligned with the award-winning CURV 500 design, the Extension set includes an Extension Subwoofer, four array satellites, a SmartLink Adapter, a distance bar and speaker cable, but comes without a mixer. It has 300S RMS and 1,200W peak for the bass reproduction, and the four satellites rely on a power amplifier with 160W RMS or 640W peak. The Class D power amplifiers with switching power supply provide the necessary power.

The four satellites are operated via SmartLink adapters. The elements, only 5 x 5", are equipped with LD System's own WaveAhead technology; one 4" and three 1" drivers provide a coherent and extremely detailed playback with high pressure and dynamics.

The 10" woofer resides in a black bass-reflex cabinet made of plywood. The cabinet, equipped with PA-protective coating, weighs 36 lb. and is easily transported by means of three ergonomically shaped handles. In addition to a DSP-based multiband limiter, protection circuits prevent short circuits, overheating or overloading and ensure safe operation.

The humming noises caused by variations in the grounding potentials can be avoided with the ground lift function. The M20 threaded flange on the subwoofer gives a firm hold to the adjustable distance bar and the locking mechanism secures the array satellites against unwanted turning. The system cabling is carried out with the five-pin XLR input; an additional subwoofer can also be connected to the five-pin XLR output socket.

Features
Dual Class-D amplifiers
1,200W peak subwoofer output
640W peak satellite output
10" woofer, one 4" MF driver and three 1" HF drivers