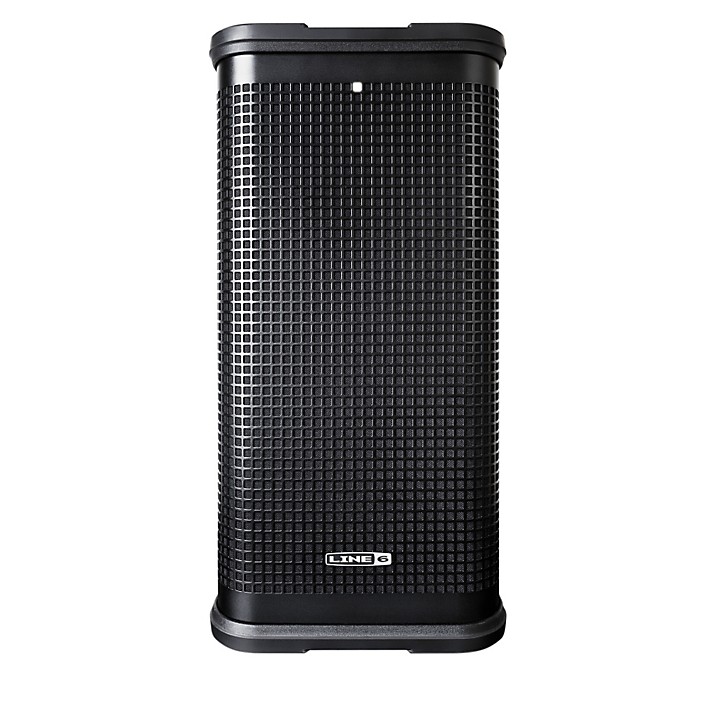 Next generation sound reinforcement.
StageSource L2m loudspeakers use massive DSP and huge power to deliver studio-quality live sound at every gig. You can use six powerful DSP-based Smart Speaker modes to optimize the speaker's output for a variety of performance scenarios including front-of-house PA, floor monitor, personal PA, keyboard backline, acoustic guitar backline, or with a multi-effects guitar processor as a high-performance electric guitar speaker system. An onboard accelerometer and pole-mount sensors automatically detect the speaker's orientation and set the Smart Speaker mode accordingly.

Fast Networking via L6 LINK
In live sound situations where two or more speakers are needed, StageSource products use a proprietary digital networking protocol called L6 LINK to simplify setup. Loudspeakers will automatically self-configure, pan stereo signals, adjust Smart Speaker modes and perform system-wide optimization. Add StageSource L3s subwoofers to the mix and the system automatically sends them the summed signals and sets the crossovers. When combined, Line 6 live sound products form an intelligent ecosystem that sets up faster and helps you sound your best.

Designed to Be Different
The 800-watt, two-way, bi-amped speaker system and tour-grade plywood enclosure combine to deliver great power and reliability. The innovative multi-function design makes StageSource L2m perfect for a wide variety of applications-stacked on the floor or stage, pole-mounted, positioned horizontally as a floor monitor, used as instrument backline with Virtual Tilt-back, or flown with the integrated M10 suspension points.

Orientation and Pole-mount Sensors
StageSource L2m uses an internal accelerometer, optical sensors and DSP to accelerate setup and optimize the sound of your system. Based on the information the system detects, it selects the right Smart Speaker mode for the application, and automatically adjusts its performance.

Integrated Feedback Suppression
Since feedback can ruin a performance, StageSource L2m uses intelligent 12-band feedback suppression to identify the problem frequencies and adjust levels without affecting the overall sound.

L2m feedback suppression continuously analyzes the audio signal, identifying frequencies that have the characteristics of feedback (steady frequencies with few overtones, rising in amplitude) and then applies a narrow notch filter to remove the offending frequency. L2m feedback suppression can remove up to 12 independent feedback frequencies. You can set the feedback analyzer to one of three modes, depending on how aggressively the analyzer will seek out potential feedback frequencies.

Multi-function Design and Scalability
Multi-function design combined with powerful Smart Speaker modes and digital networking provides true scalability whether you're using a single L2t as a standalone PA or multiple L2t and L2m speakers as main PA, monitors and backline. Add StageSource L3t/L3m loudspeakers and L3s subwoofers to customize a configuration that meets your live sound or installation needs.

Road-ready Construction
StageSource L2m is ready for whatever the road can throw at it. The robust enclosure is constructed of heavy-duty plywood, and features a tour-grade steel grille with protective screen backing that shields the drivers from impact damage.
If you need to fly the speakers, each StageSource L2m features four professional M10 suspension points with a pull-back.

Specifications
Acoustical
System Type: 10", 2-way, bi-amplified loudspeaker system
Frequency Range (-10dB): 44Hz to 19kHz, (Reference/P.A. Speaker Mode, free-field)
Frequency Response (±3dB): 51Hz to 18kHz, (Reference/P.A. Speaker Mode, free-field)
Maximum SPL Output:
128dB peak @ 1 meter (unweighted, measured indoors with music program material)
Coverage Pattern (-6dB): 100 horizontal x 50 vertical
Directivity Factor (Q): 9.2 (averaged 1kHz to 16kHz)
Directivity Index (DI): 9.6dB (averaged 1kHz to 16kHz)
Crossover Frequencies: LF to HF Crossover - variable, 2.2kHz to 7.0kHz (Speaker Mode dependent)
Low-Frequency Transducer: 10" extended range woofer, 2" diameter voice coil, 4Î impedance
High-Frequency Transducer: 1" exit compression driver, 1.4" diameter voice coil and diaphragm, 8Î impedance
Electrical - Rear Panel
Input Types: Line-level XLR-1/4", balanced Stereo RCA, unbalanced L6 LINK XLR
Input Impedance: 100 kÎ balanced 20 kÎ balanced N/A
Max Input Levels: +20dBu +16dBV N/A
Onset of Limiting: +6dBu input (Reference/P.A. Speaker Mode, Master Level control at center-detent)
-6dBu input (Reference/P.A. Speaker Mode, Master Level control at maximum)
Output Impedances: Source-dependent 680Î balanced N/A
Controls: Feedback Suppression On/Off/Mode, Master Level, Speaker Mode
Indicators:
Signal Present/Clip, Feedback Suppression On/Off/Mode, Limit, 6x Speaker Mode, L6 LINK Status
Digital Signal Processing
Speaker Modes:
Reference/P.A., Playback, Floor Monitor, Keyboards, Acoustic Guitar, Electric Guitar
On-board Effects: Feedback Suppression
Transducer Protection: Excursion limiting, thermal limiting
Digital Networking: L6 LINK intelligent speaker networking system
Sensors:
Speaker orientation, pole sensor, power amp temperature, power supply, temperature
Power Amplification and Supply
Output Channel: HF LF
Power Amplifier Type: Class AB Class D
Peak Output Power1: 175 watts 655 watts
Power Supply Voltage Range: 100 - 240 VAC, ± 10%, 50/60Hz , automatic voltage selection
Power Consumption: 250 watts (1/8th power)
Cooling: Digitally-controlled, variable-speed 50 mm fan
Protection:
Output overcurrent, overtemperature, DC fault
1 1kHz sine wave input, 1% THD+N unweighted into the nominal load impedance, single channel driven, before the onset of limiting.
Mechanical
Enclosure:
15 mm enclosure, 18 mm baffle, multi-ply hardwood, textured black paint, bass, reflex design
Floor Monitor Upward Angle: 60 using kickstands, 30 using handle
Suspension Points: M10 x 1.5 threaded inserts, qty: 4
Pullback Point: M10 x 1.5 threaded insert, qty: 1
Grille: 18-gauge perforated steel, black powder coat finish
Pole Cup: 35 mm pole cup with sensor
Dimensions (HxWxD): 23.75" (603 mm) x 12.25" (312 mm) x 12.25" (312 mm)
Weight: 39.1 lb (17.7 kg)
Accessory Part Numbers
Speaker Bag: 98-037-0002
Short Pole: 98-037-0003
Long Pole: 98-037-0004
Eyebolt Suspension Kit: 98-037-0005
Features
Smart Speaker Modes for great live sound in any live sound situation
Multi-channel mixer with 3-band EQ, Smart Effects and acoustic guitar modeling
Multi-function design for true scalability
L6 LINK digital networking for multi-speaker setups
800-watt, 2-way, bi-amped speaker system
Multi-band feedback suppression
On-board accelerometer and pole-mount sensors
Virtual Tilt-back projects speaker's output upwards in backline mode
Tour-grade plywood enclosure with M10 suspension points
Retractable handle for easy portability