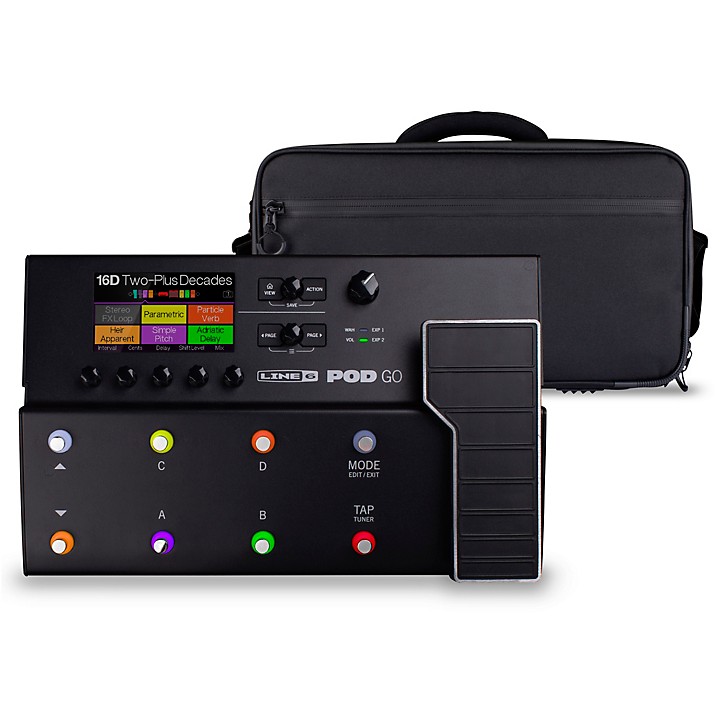 An arsenal of tones and effects.
With its simple plug-and-play interface, ultraportable lightweight design, and professional tones, the POD Go guitar processor gets you on the road to ultimate tone.

POD Go enables a simple and intuitive workflow. Choose, edit, and control sounds using the large color LCD screen, five push encoders, eight rugged footswitches, and cast-aluminum multi-function expression pedal—and add two external footswitches or a second expression pedal for even more real-time control. All the essential audio connections are at your fingertips, too, including balanced stereo outputs, a duplicate amp out that can be tapped before the Cab/IR, a stereo effects loop, a headphone jack and even a USB port for accessing the 4-in/4-out audio interface with re-amping.

POD Go boasts an arsenal of professional-quality amp, cab and effect models drawn from the acclaimed HX family of effects processors—including classic amps like the Blackface, Plexi Lead and Treadplate—as well as supporting third-party IR loading. What is more, sophisticated features such as Snapshots enable you to easily access all the tones you'll need to cover every section of every song. With POD Go, you won't just take the stage—you'll own it.

POD Go Wireless firmware 1.3 (October 5, 2021)
Mandarin Rocker - Based on the dirty channel of the Orange Rockerverb 100 MKIII
Ratatouille Dist (mono, stereo) - Based on the 1984 ProCo RAT
Retro Reel (mono, stereo) - Line 6 Original effect that simulates analog tape playback
Euclidean Delay (mono, stereo) - Line 6 Original delay based on Euclidean algorithms
Dynamic Hall (mono, stereo) - Line 6 Original hall reverb
Hot Springs (mono, stereo) - Line 6 Original spring reverb

There are also new features and updates, such as:
User Model Defaults - Save any amp, cab, or effect block's user settings as the default
Customizable Stomp Switches - Add custom labels for easier identification when controlling multiple blocks or parameters
Snapshot Naming - Name and color code your Snapshots
External Footswitch Enhancements - Queue banks or increment/decrement presets or Snapshots
Volume Knob Assignments - Additional output routing options are provided

Specifications
Item Weight: 8.03 lb.
Product Dimensions: 14.13" x 9.05" x 3.46"
Features
Simple interface with large color display
Compact, ultraportable, lightweight design
270+ HX and legacy amp and effects models
Third-party IR loading
Stereo effects loop and expression pedal/footswitch input
POD Go Shoulder Bag