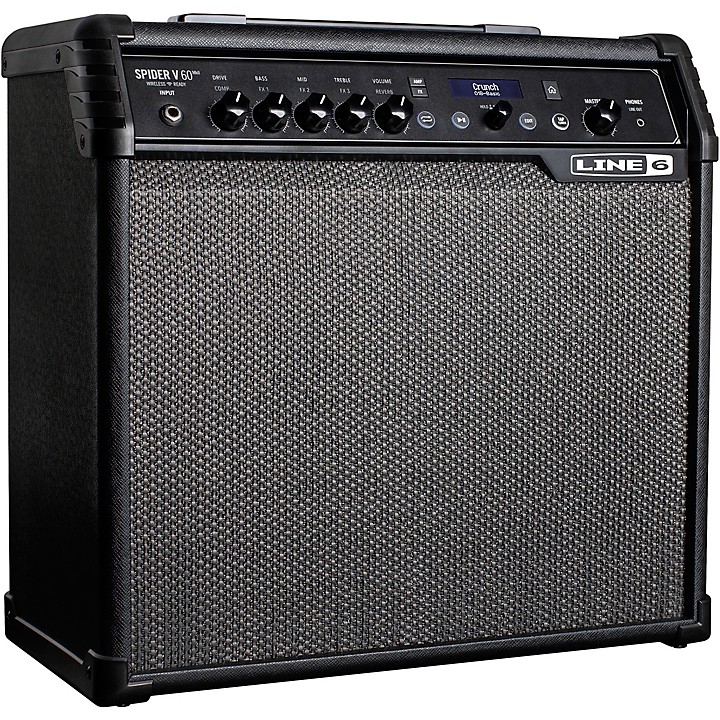 This do-all practice marvel is ready to rock.
The Line 6 Spider V 60 MkII is a full-featured practice amp, but it's not "just" a practice amp. Whether you like to plug in and immediately rock a traditional amp tone, or enjoy tweaking parameters until you've devised a unique and awe-inspiring sound, this machine gives you the tools to create exactly what you want. Classic Speaker mode provides an organic sound and feel, while all-new presets—including vintage amp presets voiced by a renowned tube-amp maker, and Artist and Iconic Song collections—are natural and authentic enough to go from rehearsal space to recording studio and live stage.

Call up your favorite shred, chime, clean, saturated, chunky, or metal tones with ease, and if you want something more, dive into deeper parameters—as well as the free Spider V Remote editor app—to sculpt custom sounds that could only come from your brain. Whatever drives your creativity, the Spider V 60 MkII amp gets you there with all the ease or complexity that defines your individual musical mantra. Never settle. Own your tone!

Classic Speaker & Full-Range Modes
The new Classic Speaker mode provides more organic and authentic amp-to-speaker tones, while Full-Range Speaker mode is optimal for acoustic guitars and jam track playback.

Be More You
With 128 presets and more than 200 amps, cabinets, and effects, your perfect tone awaits, whether you're a conventional player or a blazing iconoclast. If you want to push the envelope even further, the free Spider V Remote app is always by your side to unlock more sounds, more possibilities, and more inspiration. And it's almost impossible to fall victim to creative shutdowns, because the Line 6® CustomTone community is a click away to provide inspiration and share presets.

Use Your Feet
The Spider V 60 MkII is optimized for use with the optional Line 6 FBVTM 3 Advanced Foot Controller, which lets you control your amps and effects without interrupting your performance. The foot controller makes it easy to jam at home and record parts into a computer, but it also ensures you can perform live like a pro. After all, the Spider V 60 MkII is not "just" a practice amp.

Layer Your Lines
An onboard, 60-second looper lets you explore all the textural adventures of looping. These days, many artists incorporate looping into their creative processes and live shows, so see what stacking textures can do for your own expression.

Cut the Cable
Go wireless with no fuss. The Spider V 60 MkII includes an onboard wireless receiver, which means all you need to do is get an optional Line 6 Relay transmitter for your guitar, and you'll be unfettered and free. Get those dance moves and stage dives ready.
Specifications
Power: 60W
Speaker: 1x10" custom
Classic Speaker mode for organic sound and feel
Artist, Iconic Song, and classic amp presets
200+ amps, cabs, and effects
Tuner, metronome, and jam-along drum loops
Compatible with Line 6 FBV 3 Foot Controller
USB interface and free Spider V Remote app (Mac, PC, iOS, AndroidTM*)