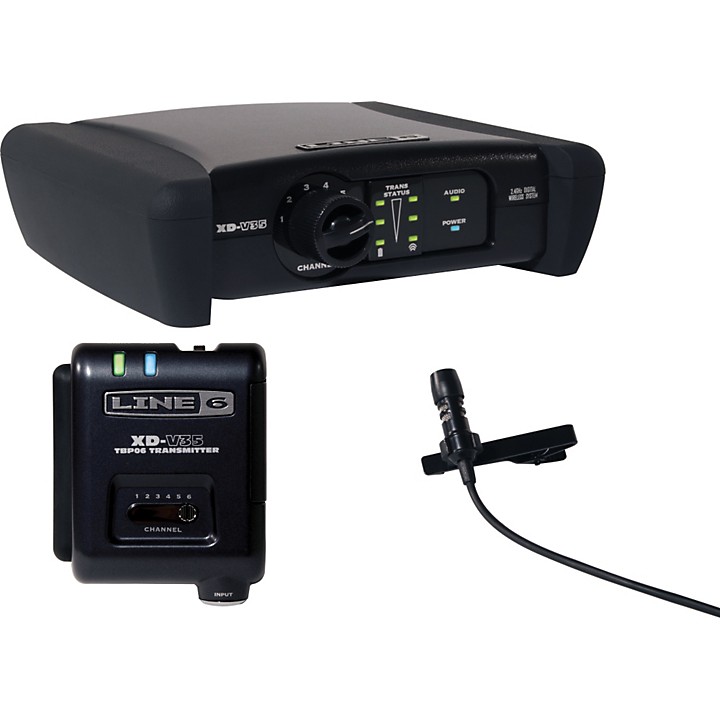 A wireless lav with the quality and reliabilty of a wired lav.
Designed for professional spoken word applications, the XD-V35L was created to set a new standard in lavalier sets a new standard in lavalier wireless systems, delivering classic wired mic sound with the superior audio quality, operation and reliability of the proven Line 6 digital wireless platform. Based on the company's class-leading fourth-generation digital wireless technology, XD-V35L provides great sound and simple, license-free operation worldwide in a compact, easy-to-use system.

Pure vocal reproduction with superior operation
Using the same technology as the XD-V35 flagship wireless systems, the XD-V35L wireless signal is so clear and strong that it sounds just like you're using a wired microphone. Unlike traditional analog wireless systems, there's no compression or expansion in the signal chain.

The discrete tie-clip mic, designed for low handling noise, captures your voice perfectly and the system transmits a full 10Hz-20kHz frequency response with a wide 117dB dynamic range A weighted), giving a huge amount of headroom for the clearest possible sound. A separate Dynamic Filter works to combat any unwanted environment noise without compromising the vocal sound.

It all combines to transmit every nuance of every word with no degradation in quality across the entire 275-foot (83-meter) range. (Note: actual range will depend on RF interference sources nearby including, line of site obstacles.)

2.4GHz broadcast. Worry-free. License-free.
Nothing should get in the way of a great vocal performance. Ensuring peace of mind and the most reliable performance, XD-V35L systems operate in the 2.4GHz band, which is free from interference due to TV broadcast, public safety announcements, cellphone towers and other transmitting devices. Encoded DCL (Digital Channel Lock) technology prevents reception of any audio interference from other 2.4GHz devices and ensures signal integrity.

Confused by wireless licence fees? Don't be. All Shure's XD-V systems are fully FCC-compliant and use the 2.4GHz band, so you don't have to worry about license fees or regulations wherever you are in the world.

One-step setup
Whatever the application, XD-V35L is all about simplicity. You don't need to be a live-sound engineer to use it. Just switch on, select one of the six always-available channels on the mic transmitter / receiver and you're up and running. That's it. No tweaking, no frequency scanning - it's ready to go in seconds.

Easy-to-read displays on the transmitter and receiver provide accurate battery-life data, so you can be confident you won't get caught with dead batteries in the heat of a performance. Standard AA alkaline batteries provide 8 hours of constant use (and two batteries are conveniently included so you're ready to go right out of the box).
Features
Professional discrete lavalier wireless system for spoken word performers
Premium cardioid condenser capsule reducing feedback susceptibility
One-step setup
Full-range 10Hz-20kHz (-2dB) AF frequency response
Wide 117dB dynamic range (A-weighted)
Superior transient response
24-bit digital conversion
Dynamic filter minimizes environment noise
Standard 1/4" input enabling use of 3rd party microphones
2.4GHz broadcast avoids interference caused by TV stations, public safety broadcasts, cell phone towers, and other high-powered sources
License-free operation worldwide
6 always-available channels
275' / 83m range - 10' away or 200' away, you get full-quality audio (Note: actual range will depend on RF interference sources nearby including, line-of-sight obstacles)
Proven 4th-generation digital wireless technology surpasses analog wireless systems in wireless reliability and sound quality
System includes premium lavalier microphone, bodypack transmitter, polycarbonate desktop receiver, two AA alkaline batteries