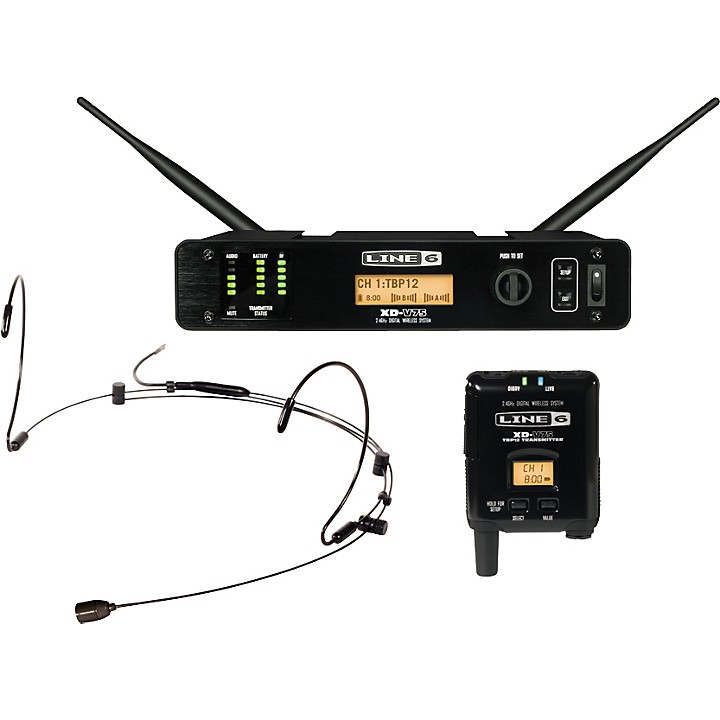 Latest generation wireless technology, with hands-free delivery for live stage and presentations.
The XD-V75HS Digital Wireless Headset Microphone System is a hands-free system designed for use in performance-critical live stage and presentation applications. Offering spectacular audio quality, XD-V75HS systems feature exclusive EQ filter modeling technology combined with a proven 4th-generation digital wireless platform, the most mature in the industry. With 14 channels of 24-bit, 10Hz-20kHz, compander-free performance, the XD-V75HS provides unmatched full-range audio clarity and license-free operation worldwide.

Maximize vocal clarity with built-in EQ filter models.
XD-V75HS gives you the flexibility to choose from six vocal EQ filter models, enabling you to optimize the sound of the system for your voice and deliver your performance with maximum clarity and impact in every environment. Using the selector button on the transmitter bodypack, you can easily audition and choose from the available EQ filter models.

Superior vocal reproduction, professional performance.
The signal from XD-V75HS is so clear and strong that it actually sounds like a wired microphone, but with all of the advantages of wireless, hands-free performance. Unlike traditional analog wireless systems, the XD-V75HS does not use signal companding, so the full 120dB dynamic range is available at all times, just like a wired mic. The included adjustable headset features a premium omni-directional condenser capsule and fits comfortably and securely for the clearest sound.

2.4GHz band operation, license free.
Ensuring peace of mind and the most reliable performance, the XD-V75HS operates in the 2.4GHz band, free from interference due to TV broadcast, white space devices, and cell phone towers.

Confused by wireless license fees? No need to worry, XD-V75 systems are fully FCC compliant and operate license free worldwide. Using a Line 6 digital wireless product means no more complications.

Specifications
System includes premium headset microphone, bodypack transmitter with protective storage case, 1/2U receiver, 2 x 1/2 wave antennas, front-mount antenna kit, rackmount kit, and two AA alkaline batteries
Features
Professional digital wireless headset microphone system for performers and presenters.
License free operation worldwide
Exclusive Line 6 EQ filter modeling technology to optimize the system to your vocal and performance style - choose from six distinct EQ filter model types.
Accurate and precise vocal reproduction with full-range 10Hz - 20kHz (- 2.5dB) AF frequency response, wide 120dB dynamic range (A weighted), superior transient response, and 24-bit digital conversion
Standard TA4 mini-XLR input for integrating 3rd-party microphones
Proven 4th-generation digital wireless technology surpasses analog wireless systems in wireless reliability and sound quality
One-touch setup
2.4GHz Band operation, free from interference due to TV broadcast, white space devices, and cell phone towers.
14 Always-available channels
300-Foot (100-meter) extended range
Premium omni-directional condenser capsule - for professional hands-free performance
Signal Encryption for maximum signal privacy and integrity
Dynamic Filter to combat unwanted environment noise
Gain control to optimize receiver output
Channel Scanning for best RF management in multi-system applications
2 Powered BNC antenna inputs - for daisy-chaining multiple systems
Transmitter LCD Display - for selecting channels, battery status, microphone model, and more
Large LCD display on receiver for channel setting, model selection, battery status, and more
Road-ready headset mic, bodypack and receiver chassis
FCC compliant; Immune to the FCC Consumer Alert regarding wireless microphones