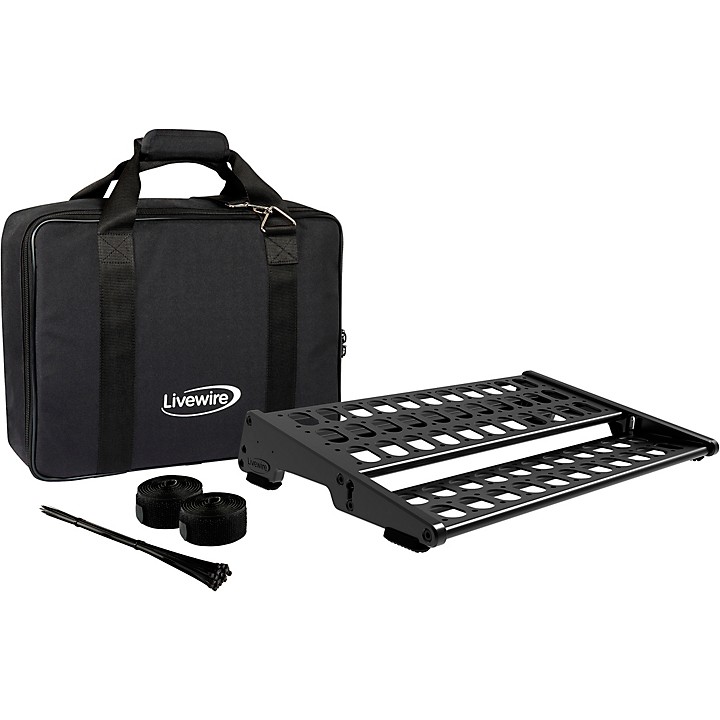 Hitting the road? A fly-away gig? A cross country tour? Wish you could toss your pedalboard into a plane's stowaway compartment and go? The Livewire Signature Series Tour Board is your ideal travel companion—rugged, lightweight, and able to handle your most important pedals with ease and comfort.

Ergonomic, Adjustable 2-Tier Design
The bottom tier is easily "tiltable," giving you a more natural, ergonomic angle when switching pedals on and off in addition to better accommodating wah and volume pedals

Accessory Integration
A dedicated, under-board area for your power supply leaves more room for your effect pedals above

Hidden Wrench Holder
The included tier-adjusting wrench tucks neatly underneath pedalboard.

Built for the Long Haul
Durable aluminum construction on the main pedal mounting surface and cast zinc on side supports make the Tour Board knock-around rugged while keeping it lightweight for easy transport

Plenty of Space and Flexibility
It features a 17.4" x 7.6" top tier and a 17" x 5" tiltable bottom tier for all your effects. Accommodates any configuration and type of attachment method you can think of: hook-and-loop, cable ties, dual lock strips and more.
Features
Top tier: 17.4 x 7.6", bottom tiltable tier: 17.4" x 5"
Accommodates a variety of pedal attachment methods
Dedicated power supply area underneath
Aluminum top and cast zinc side construction provides strength and light weight
Convenient, recessed hand holds
Clip-on wrench for no-hassle tier adjustments
Includes 30 pieces of black zip ties, 13.5" length
Includes 1" wide hook-and-loop strips with adhesive backing, 36" length total
Comes with a rugged carry bag that accommodates effect pedals for safe and easy transport
Overall platform dims: 17.4" wide x 12.8" deep
Overall product: 18.5" wide x 13.8" deep x 3.4" tall