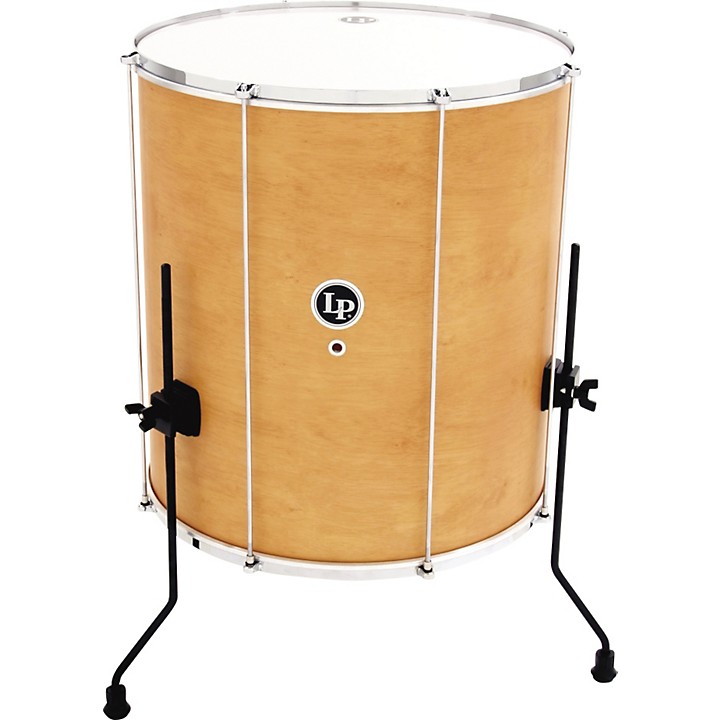 The low-end of Brazilian percussion music.
The Latin Percussion Wood Surdo, is now part of the LP Rio Brazilian series. You'll see the surdo used in samba patterns in Carnaval parades, and in samba-reggae, pagode, and ax music.

The surdo is integral to the one-two pulse of the samba. Designed to produce ultimate depth, struck open or muted, this LP Surdo features a durable, lightweight traditional select wood shell. Sized optimally at 22" x 20", the LP Surdo yields the required bottom-end to underpin the Carnaval dance/march. Note that a special radius top promotes hand comfort and access to the top head. Ten tuning rods positioned below rim level to add to comfort and enable stable tensioning. A leg set is included.

Brazilian percussion reflects the history, society, culture, and geography of a massive segment of the South American population. In one sense Brazilian rhythms are complex and diverse; in another, they stroll along more unfettered than, say, Cuban music, which must adhere to the clave.

The LP Rio Brazilian Percussion Line adheres to the highest LP standards - authenticity, broad tonality, and good projection. And innovation, as always, is the guiding spirit.

Features
22" x 20"
Durable, lightweight traditional select wood shell
A special radius top promotes hand comfort and access to the top head
Ten tuning rods positioned below rim level add to comfort and enable stable tensioning
Includes leg set