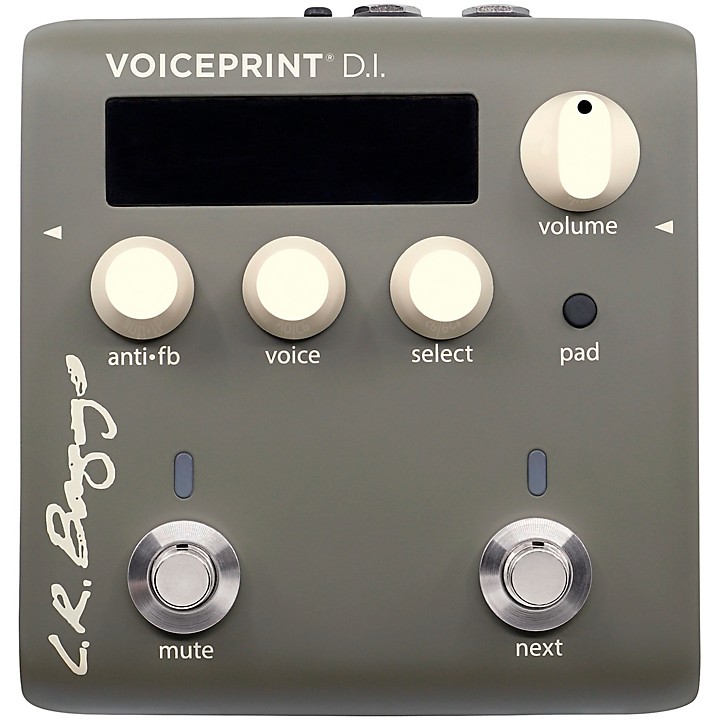 Connects, captures and enhances your tone.
The product of nearly 3 years of intensive research and collaboration with a team of PhDs, the L.R. Baggs Voiceprint DI measures the acoustic response of your guitar by leveraging the processing power of your iPhone to accurately capture your guitar's one-of-a-kind voice. A Voiceprint is created, transforming your pickup into the most authentic sound L.R. Baggs has engineered in their 40+ years.

Capture

Guided by the AcousticLive app and proprietary impulse response technology, you can now use your iPhone like a studio in your pocket to capture a Voiceprint of your acoustic guitar. Developed with Dr. Jonathan Abel, co-founder of Universal Audio, Voiceprint technology utilizes a sophisticated algorithm that intuitively measures your acoustic guitar by analyzing its actual timbre and playing response, then creates a customized preset for live play, as well as for direct recordings. Simply plug into the pedal and set your iPhone into position; tap on the bridge, strum a few chords, pick some strings and you're done.

Enhance

Deploy Anti•FB feedback profiles and shape your tone with powerful EQ

As an added benefit, every Voiceprint that you create identifies your guitar's specific resonances that are prone to feedback and creates an Anti•FB profile to easily manage feedback with one simple control on the pedal. The app also provides advanced features, such as a graphical full-parametric EQ for balancing each preset to your exact taste. These features can also be used for creating enhanced presets, even if you choose not to apply a Voiceprint.

Connect

Sync your iPhone to the Voiceprint DI and unlock all of these great features

The AcousticLive app provides the processing you need to create your presets, while the Voiceprint DI is your live performance engine. With advanced processing at 96kHz sampling, the robust playback algorithms provide studio quality performance designed for easy control during your live show. You can manage your presets in the app and store up to 99 instruments in your Voiceprint DI. The hardware is designed with a simple layout that includes the key features you will need for a successful show, but you can connect with the app during your live performance for additional functionality and control.

Apple Watch integration

In yet another first, L.R. Baggs is thrilled to introduce Apple Watch integration with the Voiceprint DI for comprehensive and unprecedented stage control of your guitar right on your wrist. With the introduction of Apple Watch control, it is no longer necessary to cut a prized guitar or suffer with inadequate control to be the master of your stage.

Features
Master Volume level control
Voice blends your instrument's custom Voiceprint with your pickup signal for enhanced accuracy
Anti•fb applies your anti-feedback profile for effective feedback control. Short press for phase inversion
Select scrolls through up to 99 instrument presets
Pad attenuates input by 0dB, -3dB, -6dB, or -9dB to accommodate a wide-range of input levels
Mute footswitch for ¼" and XLR outs. Long press for bypass
Next footswitch selects the next instrument preset
Series FX loop (separate jacks for send and return)
Ground lift switch effectively eliminates ground-loop noise
1/4" input
XLR and 1/4" outputs
9V DC power
iPhone Version: iPhone 6 and later