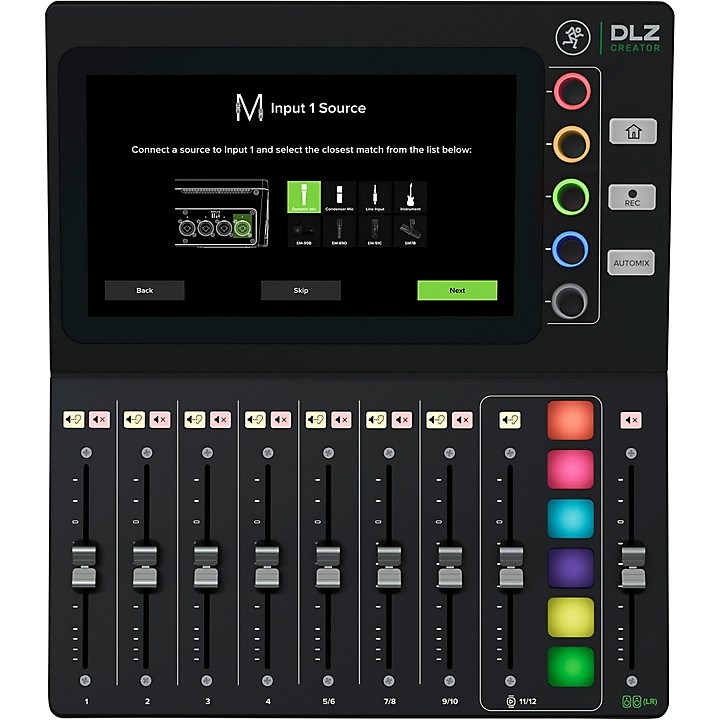 An adaptive digital mixer loaded with features made for podcasting and streaming.
The Mackie DLZ Creator adaptive digital mixer for podcasting and streaming enables you to get the results you want—faster than ever. Inspired in part by smartphone and DSLR cameras that make great results accessible to anyone, the Mackie DLZ Creator transforms the on-screen controls to meet your creative style or skill level—without compromising processing power or sound quality. The DLZ Creator is more than just an audio interface or podcast mixer, it was designed to help you be a better content producer.

The DLZ Creator features three user setup modes. EASY mode delivers a no-fuss user interface that's the fastest path to recording your first episode. It's for those who want to get great results without menu-diving. ENHANCED mode gives you expanded control over your sound and mix. It's designed for those who want some customization without an overwhelming number of options. PRO mode provides total control and is fully customizable. It's tailor-made for those who know what they want, and how to get it.

The Mix Agent function acts like your personal audio assistant, guiding you through setup and setting gain levels for your projects. DLZ Creator also comes with AutoMix, which manages levels for up to four mics, so everyone can be heard at once. From studio-grade Onyx80 preamps to custom headphone mixes for each guest, DLZ Creator brings Mackie's legacy in pro mixing boards to creators everywhere. You can even record or stream to your computer via USB-C or record full multitrack audio to an SD card or flash drive for a truly self-contained setup.
Specifications
Digital Specifications
Sample rate: 48kHz
A/D/A bit depth: 24-bit
System latency: ~3 ms
Inputs and Outputs
Inputs: 4 balanced/unbalanced combo jacks, 1/4" unbalanced stereo jack, 1/8" stereo jack
Outputs: Balanced/unbalanced 1/4" main out jacks, 4 stereo headphone jacks
Bluetooth: 5.0
USB format: USB 2.0 HS (480MB/s)
SD: Multitrack (12 channels + main mix) / 24-bit/48kHz
SD speed class: 10 or UHS recommended
USB flash drive: Multitrack (12 channels + main mix, 24-bit / 48kHz)
Power Requirement Dimensions and Weight
Height: 4.1" (104 mm)
Width: 13.0" (330 mm)
Depth: 15.0" (381 mm)
Weight: 6.1 lb. (2.8 kg)
Features
Three control modes (Easy, Enhanced, Pro) instantly adapt the 10.1" touchscreen controls to meet your style and skill level without compromising sound quality
Mix Agent technology is like a virtual audio assistant that guides you through setup and automates functions for an efficient, user-friendly experience
AutoMix manages levels for up to four mics so you and your guests can all be heard, even when everyone speaks at the same time
Use it to record or stream multitrack audio to a computer via USB-C, or straight to SD card for a truly self-contained setup
Comes with its own Reverb, Delay, 3-band parametric EQ, high-pass filter, de-esser compression, noise gate
Included in package
DLZ Creator
Quick start guide
Software redemption card
Power adapter (or cable)
USB-C to USB Type-A cable