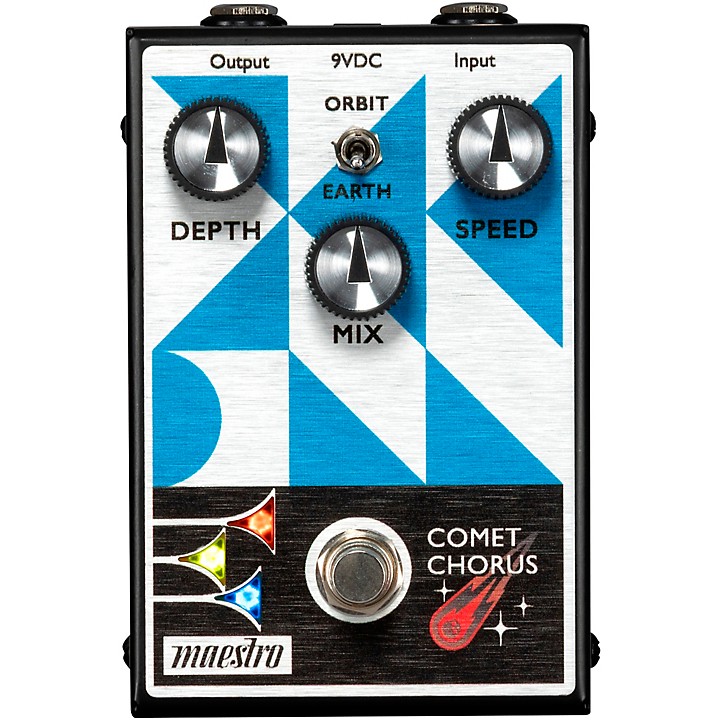 Versatile all-analog stompbox with mode toggle switch.
The Maestro Comet Chorus pedal uses iconic analog bucket brigade device technology to deliver warm, classic chorus tones. This all-analog pedal boasts a mode toggle switch for increased sonic versatility. The Earth mode provides an optimized, shimmering chorus effect, while the Orbit mode adds some amplitude modulation to the chorused sound to more accurately simulate the sonic complexities of a rotary speaker. An internal trim pot lets you adjust the level of the rotary speaker Orbit effect to taste. The intuitive 3-knob control layout lets users quickly dial up the depth (amount of pitch variation), speed (modulation rate) of the chorusing and adjust the amount of pitch modulated signal that is blended in with the dry signal by using the Mix control. The true bypass footswitch triggers the LED lights in the bugles in the Maestro logo when it's on, so you'll always know when the effect is active.
Specifications
Controls: Depth, Mix, Speed; internal Orbit amount trim pot
Switches: True Bypass footswitch, Orbit/Earth Mode toggle switch
LED Indicators: Red, yellow and blue bugles in the Maestro logo illuminate when the pedal is active
Signal Processing: All-Analog
Power Requirements: 9V battery or regulated 9VDC power supply (5.5 x 2.1mm plug, wired centernegative)
Current Draw: 33 mA
Input Impedance: 470K ohms
Output Impedance: 1K ohms
Switching: True Bypass
Dimensions: 5.04" D x 3.45" W x 2.5" H, including feet, knobs, jacks, etc.
Weight (including battery): 1.2 lb.