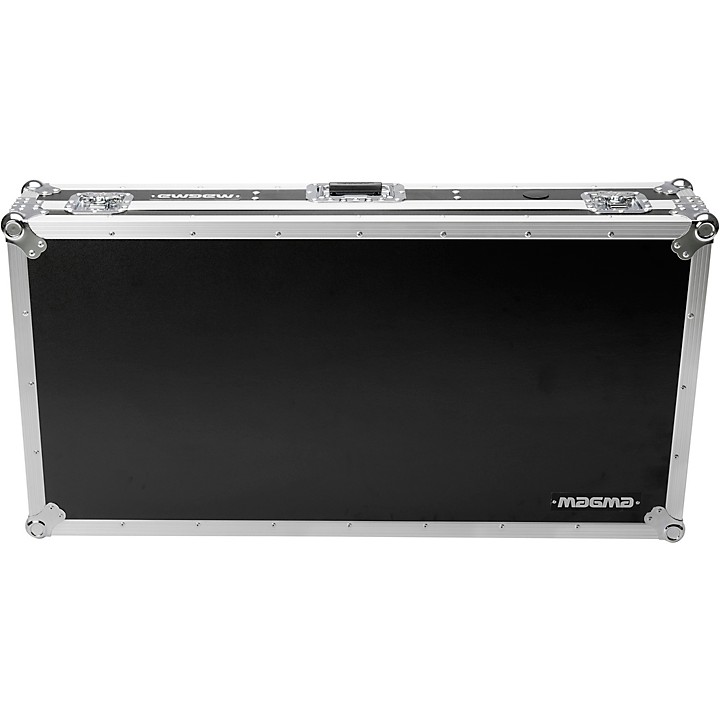 Fits standard 1200-style turntables with a mixer, and adjusts to fit other large-format decks.
The Magma Multi-format Battle-Case offers solid protection for DJ gear in a coffin-style flight case. It's designed to fit two Technics SL-1200 turntables or Rane TWELVE midi controllers in a battle-style configuration. The middle section accommodates standard 10" mixers such as the Rane SEVENTY-TWO and Pioneer DJM-S9. Removeable foam strips let you customize this road case to fit a variety of other 2-channel battle mixers. Extra foam sections are included to let you tailor the case's fit for different turntable models.

A convenient internal cable access port allows you to connect your gear and keep cords hidden. This greatly reduces your setup time at gigs. Plug your decks into the mixer and leave everything plugged in during transport. When you arrive at your next show, all that's left to do is connect your mains.

When you depend on your DJ gear for work, you want to make sure it functions properly and doesn't get damaged. That's why Magma designed the Multi-Format Battle Case. It guards your valuable DJ equipment against scuffs, scratches and dings. No one plans to drop their gear on the ground, but accidents happen. In the blink of an eye, your gear can hit the floor. The next thing you know, you're faced with expensive repairs. This rugged flight case keeps your battle-style DJ setup safe and sound.

Magma built this flight case to withstand professional use. Its heavy-duty 9 mm plywood walls have a tough exterior vinyl laminate. The case's hardware is equally rugged. Steel ball corners and spring-loaded latches and handles add durability and convenience. Recessed smooth-rolling wheels make transporting the case effortless. Solid rubber feet underneath the case provide stability and won't scratch table surfaces.

Features
Coffin-style flight case with fits battle DJ setup
Designed to fit two turntables and 2-channel mixer
Removable foam strips allow customized fit for variety of gear
Internal cable routing; robust 9 mm plywood walls