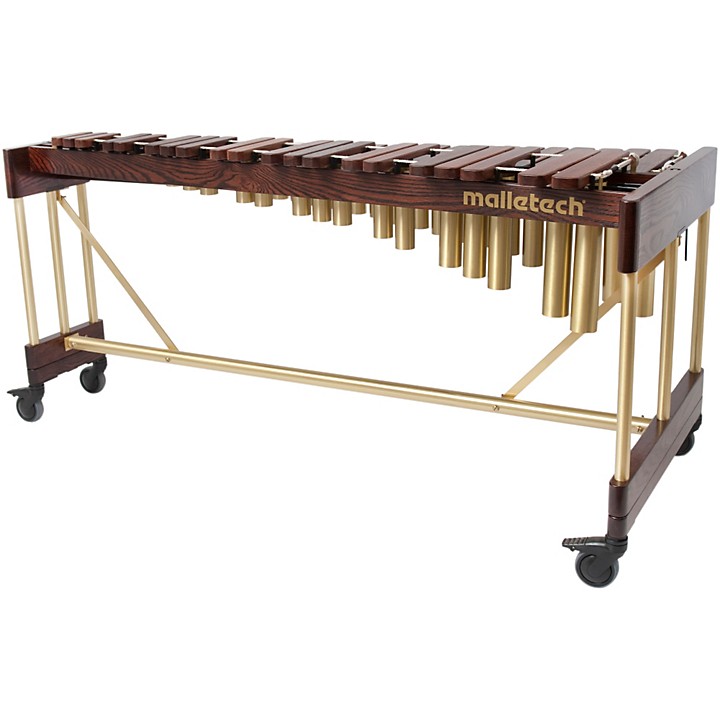 Professional set with tuning options and aged bars.
The Malletech XA4.0 Orchestral 4.0-Octave height-adjustable xylophone is based on the Leedy model G.H. Green played, but with modern tolerances and quality control, making it the perfect harmony between modern and vintage. The X4.0 features a solid honey finish oak and brass frame. The dent-resistant rosewood bars are available in octave tuning or the quint tuning used by the classic xylophones of the 20's and 30's. Graduated bars from 2" wide at the low end to 1-5/8" high end. Height adjustment from 34-5/8" (top of the naturals) to 42-5/8".
Specifications
Series: Orchestral
Material: Rosewood
Bars: Graduated from 1 5/8" x 1" to 2" x 1"
Range: 4 octaves, 49 notes, C-C
Pitch: A=442 standard, other tuning options available
Height: 34 5/8 Inches to top of naturals, 36 Inches overall; adjustable up to 8" higher
Width: 33 1/2 Inches low end, 13 Inches high end
Length: 65 1/4 Inches
Weight: approximately 126 pounds
End boards: 1 3/4 Inches thick solid oak and 1 1/2 Inches brass tubes
Bar rails: 3/4 Inches thick by 3 Inches high solid oak
Bracing: 1/4 Inches thick solid brass
Hardware: Solid brass bar posts and fasteners
Resonators: Brass tubes ranging from 1 1/4 Inches diameter to 2 1/4 Inches diameter
Finish: Honey Oak stain is standard, other finishes available at extra charge
Keyboard: Select Honduran rosewood, air-dried for a minimum of 5 years, then kiln-dried.
Features
Patented tunable resonator plugs
Solid brass fittings and braces
Exclusive "uni-brackets" virtually eliminate frame noise
Super-node drilling for bar cord
100% cotton bar cord equipped with quick-adjust tension clutch