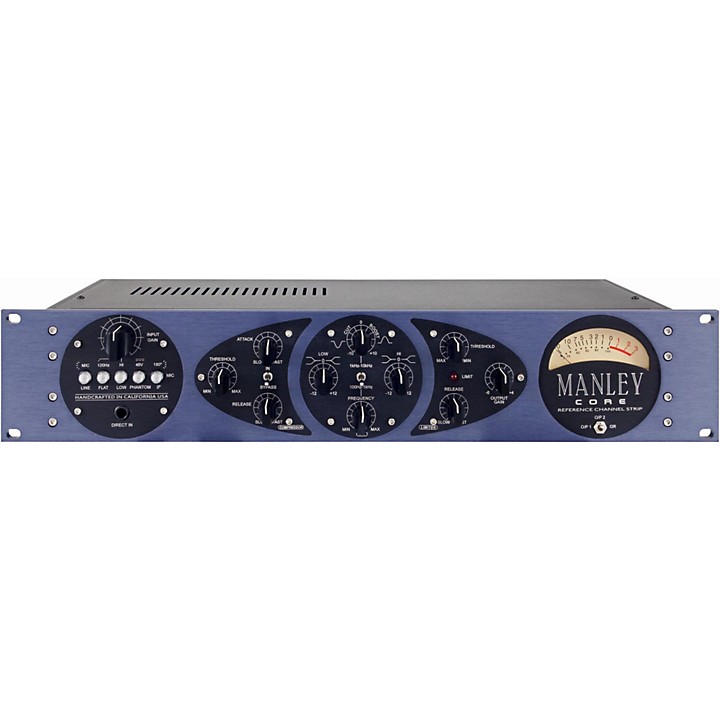 Studio-reference channel strip with legendary Manley components.
Building upon a 25-year legacy of producing some of the most revered recording studio equipment, Manley Labs has created the CORE studio reference channel strip that combines the best of Manley's legendary products with technology that is fit for today's home and professional studios. The CORE features a remarkably intuitive front panel that combines musical and forgiving circuitry, allowing musicians to concentrate more on their performance instead of being lost in a sea of knobs and settings. By simplifying controls, the CORE makes it easy to cut great sounding tracks every time.

CORE is the culmination of Manley's extensive experience working with some of the industry's top recording engineers and musicians, resulting in high headroom and a seductive sound that very few manufacturers can provide at this price level. Handcrafted in the USA, CORE is built tough like a tank and ready to endure long and intensive recording sessions as the epicenter of your studio setup.

MIC / LINE PREAMPLIFIER
Your signal enters into the CORE through Manley's distinguished hand-wound MANLEY IRON input transformer with nickel laminations in a mu-metal shielding can. The tube stage of the amplifier is Manley's latest implementation of their famous Class A circuit topology that's also found in the legendary VOXBOX and Manley Dual Mono & Mono Microphone Preamplifiers. This all-triode vacuum tube circuit runs on a regulated 300 Volt B+ supply yielding huge headroom and relentless output drive capability.

1/4" Direct Input
Similar to the DI in the Manley SLAM!, this all-discrete solid-state circuit with 10 Meg Ohm input impedance is perfect for guitars, bass, keyboards, etc.

COMPRESSOR
The CORE's compressor section features Manley's successful ELOP technology, the same technology also found in the legendary VOXBOX voice processor, and is uniquely placed before the microphone preamp making it virtually impossible to clip. A 3:1 compression ratio with continuously variable attack, release and threshold controls give you ultimate leveling capabilities and the silent bypass switch lets you decide weather or not to use compression on your source.

EQUALIZER
The EQ section provides full frequency range control featuring low and high Baxandall Shelves (80Hz and 12kHz) with a +/-12dB range, and a sweepable Midrange Bell EQ (1kHz - 10kHz) with a +/-10dB range. Controls are stripped down to four knobs with selectable frequency ranges to make EQ settings fast and efficient without getting bogged down over extensive control options.

LIMITER
The limiting section features a fast-attack FET "brickwall" limiter with continuously variable threshold and release controls. Simple to set, with a peak limit LED indicator and 10dB range output gain control, you'll always have signals at their highest, optimal levels of performance.
Features
All-tube preamplifier audio path
Renowned hand-wound MANLEY IRON input transformer
Same class-A circuit topology found in the VOXBOX
1/4" direct input with discrete solid-state circuit
Manley ELOP compression technology
Compressor uniquely placed before mic preamp
Low and High Baxandall Shelves with ±12dB range
Sweepable Midrange Bell EQ with ±10dB range
Fast attack FET "brickwall" limiter
Large illuminated analog display
3-way meter-select switch