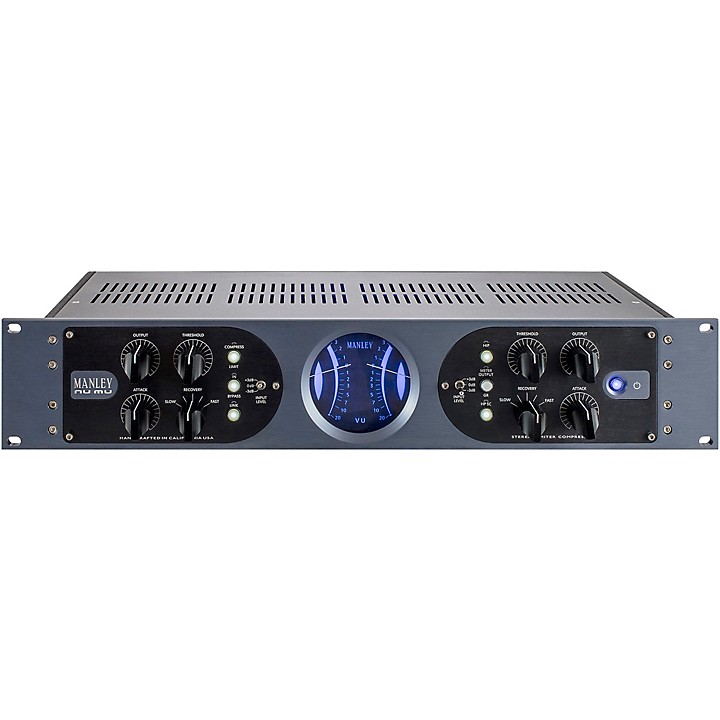 Legendary Manley design—for modern music.
The Manley Nu Mu stereo limiter compressor uses the special T-Bar mod tube front end of the legendary Variable Mu, with the same super smooth side chain and timing characteristics. That's followed by a high-voltage discrete and FET solid-state amplifying and output stage, for a faster and punchier audio path. It's like a "clean" version of the Variable Mu, especially suited for modern digital and electronic music—where you don't necessarily need to color or mask the sound like they did in the early days of digital.

Featuring Manley's new HIP function, the Manley Nu Mu finesses dynamic control to bring up lower-level details—without knocking the life out of exciting transients. It's smartly engineered to build efficiently, and aesthetically designed to elicit ravishing compliments from your clients, both visually and ergonomically. The Manley Nu Mu breaks new ground in performance and value, all proudly built by hand in California.
Specifications
General
Type: Tube/solid state (4 x 6BA6 vacuum tubes)
Number of channels: Two
Controls: Threshold, attack, recovery, output
Ratio: 1.5:1, 4:1 to 20:1
Inputs: Two XLR
Outputs: Two XLR
Rack Spaces: 2U
Other
Height: 3.5"
Depth: 7"
Width: 19"
Weight: 8.5 lb.
Features
Hybrid tube/solid-state compressor/limiter
3:1 compressor ratio, 10:1 limiter ratio
Dual channel (stereo linkable)
Features Manley's IRON input transformers
Four hand-selected and matched 6BA6 vacuum tubes
Balanced XLR I/O
HIP circuit elevates softer dynamics without crushing louder ones
Lighted VU meters, switchable between Gain Reduction and Output Level
Custom, internal, universal high-voltage switched-mode power supply, for worldwide operation