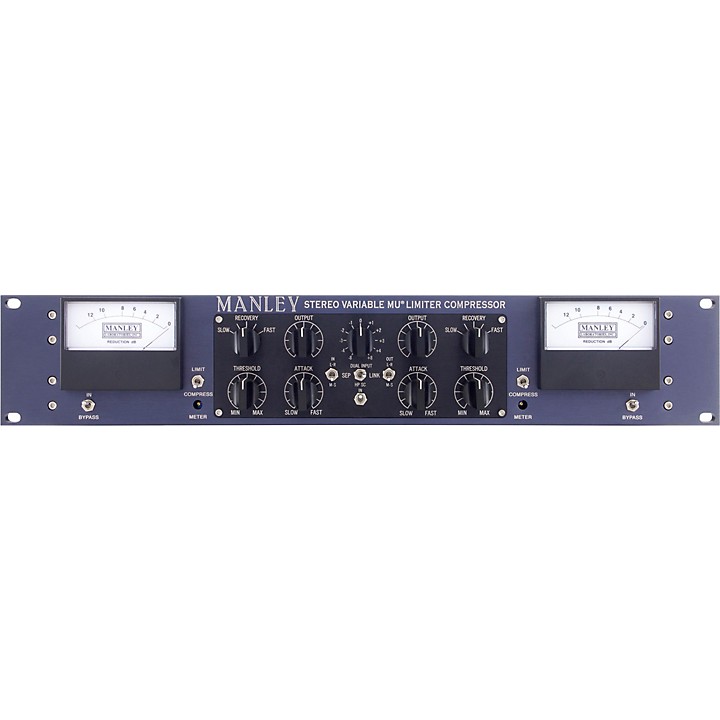 A stereo compressor limiter that uses remote cut-off technology.
The Manley Variable Mu Stereo Compressor Limiter is the glue that holds the mix together while crystallizing it into a professional, final product. This compressor limiter is all-tube, all transformer, with a high pass side chain mod. It is one of the very few compressors that has become a real standard in mastering studios and contributed to most hit records over the last decade. It works by using the remote cut-off, or re-biasing of a vacuum tube to achieve compression. The unique 5670 dual triode is at the center of the peak-reducing and compression action constantly being re-biased by the vacuum tube rectified side-chain control voltages which cause this tube to smoothly change its gain. The compress mode is soft-knee 1.5 to 1 ratio while the sharper knee limit mode starts at 4 to 1 and moves to a more dramatic ratio of 20 to 1 when limiting over 12dB. Interestingly, the knee actually softens as more limiting is used. Distortion can be creatively used by turning up the Input and turning down the output while using very little or no compression.
Specifications
Type: Vacuum tube limiter/compressor with MS, T-Bar mods
Number of channels: 2
Controls: Threshold, ratio, attack, recovery
Ratio compress mode: 1.5:1
Ratio limit mode: 4:1 to 20:1
Frequency response: 20Hz-25kHz
Inputs: 2 x XLR
Outputs: 2 x XLR
Side chain inserts: Side chain high pass Filter
Tubes: 4 x 6BA6, 2 x 5751/12AX7, 2 x 12BH7, 2 x 12AL5
Rack spaces: 2U
Power source: Standard IEC AC cable
Height: 3.5"
Depth: 10"
Width: 19"
Features
T-Bar Mod for smooth limiting curves, lower THD, and optimized per-channel phase and stereo channel matching
M-S Mod provides rock-solid mono compatibility, plus a range of stereo processing techniques
Variable Gain vacuum tube (per channel) has 2 x 12BA6 or 6BA6 single pentodes wired in in triode mode
Manley input and output transformers with pure nickel laminations in mu-metal case
Flat frequency response from 20Hz–25kHz
Balanced inputs and outputs
Fully differential all-tube circuitry using one 5751, 7044, and 12AL5 per channel
Independently regulated B+ and heater supplies
Includes HP side chain modification as standard
Hard-wire bypass switch
Silent conductive plastic input attenuator
Continuously variable threshold
Switch for limit or compress modes
Front-panel mounted meter calibration
Limit (4:1 to 20:1) or compress (1.5:1)
Stereo link switch