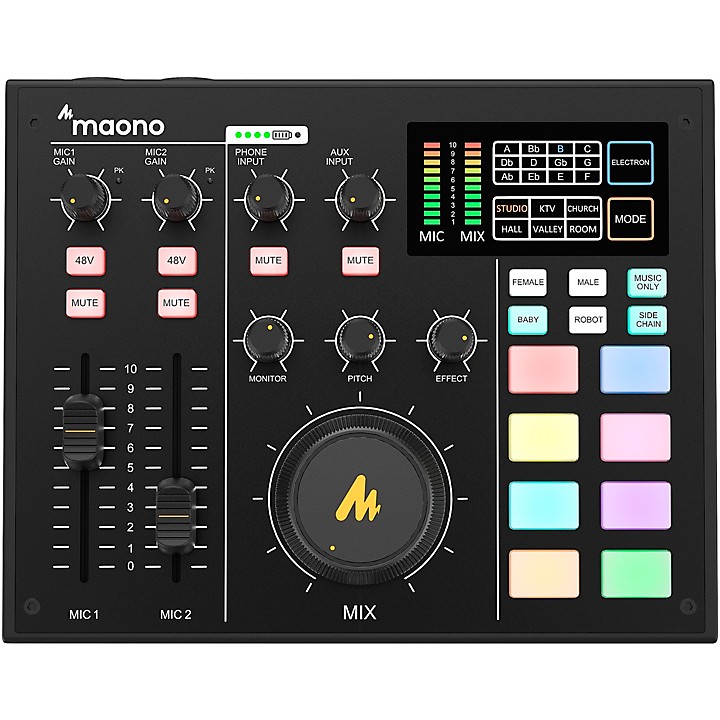 MAONOCASTER is your on-the-go podcast studio.
MAONOCASTER portable podcast studio is exactly what you need when you want to get your podcast, radio shows or Twitch streams off the ground easily, but are not sure what gear to buy. It is so easy and intuitive to use, that you can jump headfirst into podcasting within minutes, and focus on providing valued content and interacting with your audiences rather than being distracted by the complicated operations.

It offers four channels of audio mixing and easy connections to microphones, smartphones and other sources. The MAONOCASTER uses advanced engineering that allows you to control the sound levels, and add live vocal and sound effects through a comprehensive set of tools, to avoid difficult post-production and editing.

MAONOCASTER portable podcast studio greatly simplifies the podcast production process by integrating several digital audio mixing devices into one comprehensive solution at an affordable price. It's very easy to set up and use in any room to record or broadcast live. It also delivers superb sound quality, and offers intuitive and full control that suits the needs of both beginners and seasoned broadcasters.

Superior to other podcast stations that are chained to the power outlets when being used, MAONOCASTER portable podcast studio features a 5000mAh built-in battery that can support at least eight hours of nonstop podcasting. With MAONOCASTER, you can continue livestreaming during a blackout, when you are outdoors or even on the move.

MAONOCASTER comes with vocal FX preset buttons (including Pitch, Gender-bend, Robot, Sidechain, Music only), four sound FX preset pads (Stinger, Cheering, Clapping, Suspense), and three programmable pads to upload your own sound FX or jingles using the MAONOCASTER PC app. There is also a !@#$?* button for muting/bleeping expletives. Instant playback of infinite custom vocal and sound effects makes your podcasts more entertaining to your audiences.
Specifications
General
Headphone outputs: Two
Microphone channels: Two with XLR inputs
Channels: Four
Interface Type: USB
Outputs: Up to three devices simultaneously
Mixing station: Two mic inputs, one accompaniment input and real-time monitoring
Compatible systems: Mac, PC
Battery info: Required, included
Battery quantity: One
Other
Dimensions: 16.93" x 9.84" x 4.33"
Weight: 2.43 lb.
Features
Compact, portable design with built-in battery lets you take your production virtually anywhere
Fully integrated platform for quick and easy setup and operation
Multi-channel mixing and streaming
High-quality preamps, voice FX and noise reduction give you excellent audio