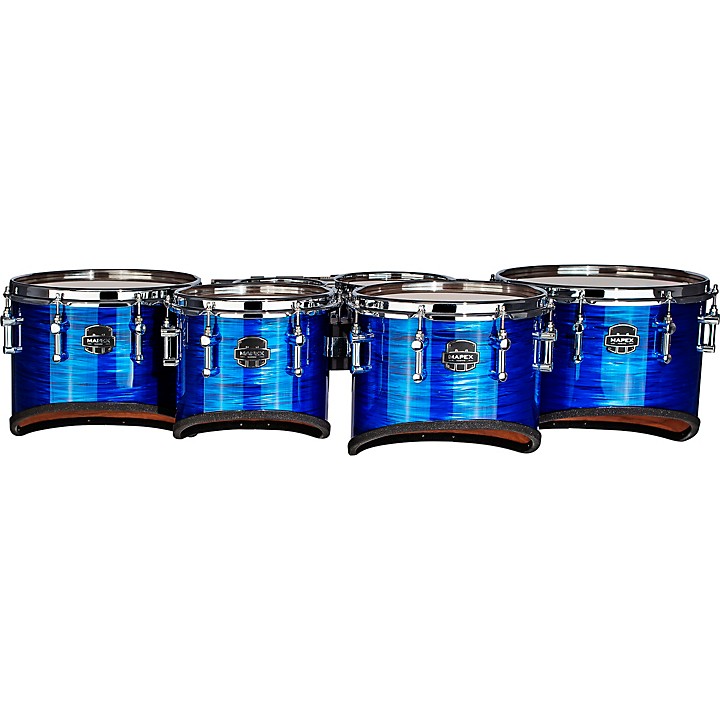 Tenor large marching sextet with deep maple/walnut-ply hybrid shell and walnut reinforcement rings.
The Mapex Quantum Mark II Drums on Demand Classic Cut tenor large marching sextet is ideal for the marching ensemble where a big, resonant sound is needed. These drums are part of the Mapex Drums on Demand program, created to deliver a durable premium-wrapped shell finish without long manufacturing production times. Based on the most popular school color combinations, these durable and attractive wrap finishes complement both traditional and contemporary style marching arts uniforms. The Classic Cut offers a deeper shell design made from thinner 6.8mm maple/walnut-ply shells for less weight and walnut reinforcement rings for added strength. The shell also incorporates a standard 45 degree bearing edge and 2.3mm triple-flanged power hoops. The Mapex Quantum Mark II Classic Cut large marching sextet comes standard with gloss chrome hardware.
Specifications
Instrument Type
Type: Marching tenor sextet
Level: Advanced
Construction
Shell: Maple/walnut with walnut reinforcing rings
Shell depth: Classic Cut deep
Rims/Hoops: Standard 45 degree bearing edge rim with 2.3mm triple-flanged power hoops
Hardware: Gloss chrome finish
Batter head: Remo UT Pinstripe
Mounting system: FFLB (Free-Floating Lug Bridge)
Drum Weight
6, 8, 10, 12, 13, 14-inch: 34.45 lbs.
Features
Deep maple/walnut-ply hybrid shell with walnut reinforcing rings
Standard 45 degree bearing edge
Gloss chrome hardware with 2.3mm triple-flanged power hoops
Remo UT Pinstripe heads