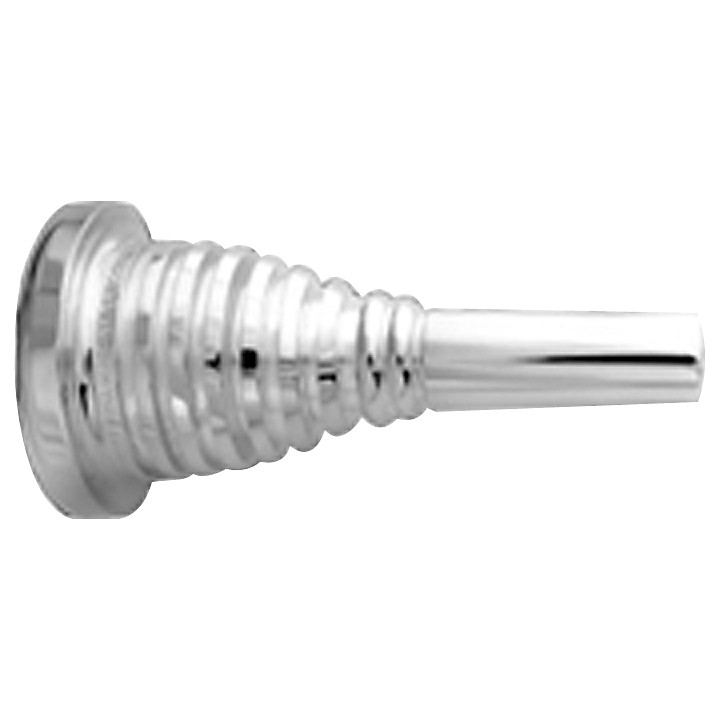 With a rich dark symphonic sound.
Designed for the player whose needs are not met elsewhere, the Pro-Line Concert Hall Series Trombone Mouthpiece in affords enhanced projection, even timbre from ppp to fff, and the same great intonation throughout all registers that Marcinkiewicz mouthpieces are famous for. These mouthpieces are optimized to give the player the best efficiency possible without compromise.

The patented Pro Line Concert Hall mouthpieces have a unique exterior design that offers optimal nodal enhancements by placing integral vibration dampers in specific, calculated locations. The net result is a mouthpiece that gives an extremely stable center of pitch, allows unprecedented dynamic levels without distortion, and provides a rich dark symphonic sound without adding the mass of a traditional heavy mouthpiece.

Specifications
Model number: CH 5G
Outside cup diameter: 1.538 in. (39.07 mm)
Inside cup diameter: 1.006 in. (25.55 mm)
Cup depth: 1.100 in. (27.94 mm)
Drill venturi: 0.261 in. (6.63 mm)
Length: 3.170 in. (80.52 mm)
Comparison only: Bach 5G
Model number: CH 5J
Outside cup diameter: 1.538 in. (39.07 mm)
Inside cup diameter: 1.006 in. (25.55 mm)
Cup depth: 1.100 in. (27.94 mm)
Drill venturi: 0.277 in. (7.04 mm)
Length: 3.170 in. (80.52 mm)
Comparison only: Bach 5G
Model number: CH 9B
Outside cup diameter: 1.545 in. (39.24 mm)
Inside cup diameter: 1.026 in. (26.06 mm)
Cup depth: 1.091 in. (27.71 mm)
Drill venturi: 0.250 in. (6.35 mm)
Length: 3.170 in. (80.52 mm)
Comparison only: Bach 5
Model number: CH 8H
Outside cup diameter: 1.534 in. (38.96 mm)
Inside cup diameter: 1.026 in. (26.06 mm)
Cup depth: 1.047 in. (26.59 mm)
Drill venturi: 0.266 in. (6.76 mm)
Length: 3.170 in. (80.52 mm)
Comparison only: Bach 6 ½ AL
Features
Small shank tenor trombone mouthpiece
Silver-plated
Unique exterior design with optimal nodal enhancements
Superior intonation
Facilitates unprecedented dynamic levels without distortion
Less mass and weight than traditional mouthpieces