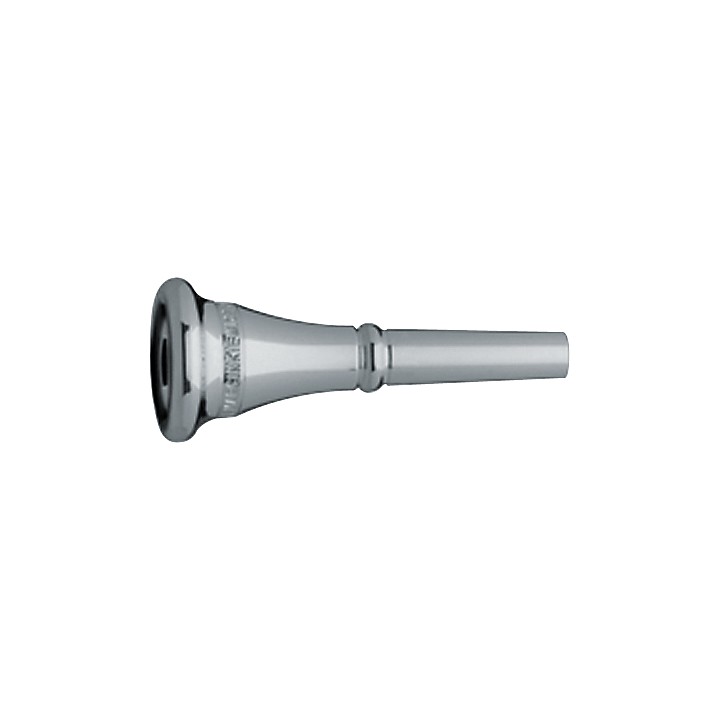 The best quality mouthpieces for every level of proficiency
Marcinkiewicz French Horn Mouthpieces are of a unique design, and are played by some of the most discerning horn players. Any brass musical instrument will respond better and produce better tone when it is used with a mouthpiece that best fits the horn and the player. The Standard Series mouthpieces are arranged in a logical ascending order from deep to shallow and wide to narrow. This arrangement permits players to select mouthpieces by precise increments of depth to find the correct cup volume required by their situation.These are some of the finest mouthpieces made in the world today and stand-alone as such.

The Marcinkiewicz goal is to offer players the best quality mouthpiece at each and every stage of their growth: first as a student and throughout their career as a professional musician. Because the facial structure of young students changes as they mature, Marcinkiewicz mouthpieces are carefully sized in logical, gradual increments. This allows students to progress more quickly and comfortably as they find the correct fit for their changing anatomy.

As rim size does not directly correspond to cup depth, please observe inside cup diameter for finding optimal response. Marcinkiewicz does not offer copies of other brands in this series, but similar items using our own designs. The comparisons are given for casual references only.

Specifications
Model number: 1
Outside cup diameter: 1.000 in. (25.40 mm)
Inside cup diameter: 0.705 in. (17.91 mm)
Cup depth: 1.006 in. (25.55 mm)
Drill venturi: 0.278 in. (5.79 mm)
Length: 2.500 in. (63.50 mm)
Rim: round
Comparison only: Schilke 32
Model number: 3
Outside cup diameter: 1.000 in. (25.40 mm)
Inside cup diameter: 0.705 in. (17.91 mm)
Cup depth: 0.992 in. (25.20 mm)
Drill venturi: 0.213 in. (5.41 mm)
Length: 2.500 in. (63.50 mm)
Rim: round
Comparison only: Giardinelli C4
Model number: 5
Outside cup diameter: 1.000 in. (25.40 mm)
Inside cup diameter: 0.699 in. (17.75 mm)
Cup depth: 0.983 in. (24.97 mm)
Drill venturi: 0.206 in. (5.23 mm)
Length: 2.500 in. (63.50 mm)
Rim: round
Comparison only: smaller than C4
Model number: 7
Outside cup diameter: 1.000 in. (25.40 mm)
Inside cup diameter: 0.699 in. (17.75 mm)
Cup depth: 0.965 in. (24.51 mm)
Drill venturi: 0.201 in. (5.11 mm)
Length: 2.500 in. (63.50 mm)
Rim: round
Comparison only: larger than C10
Model number: 9
Outside cup diameter: 1.000 in. (25.40 mm)
Inside cup diameter: 0.692 in. (17.58 mm)
Cup depth: 0.965 in. (24.51 mm)
Drill venturi: 0.196 in. (4.98 mm)
Length: 2.500 in. (63.50 mm)
Rim: round
Comparison only: Giardinelli C10
Model number: 11
Outside cup diameter: 1.000 in. (25.40 mm)
Inside cup diameter: 0.692 in. (17.58 mm)
Cup depth: 0.956 in. (24.28 mm)
Drill venturi: 0.191 in. (4.85 mm)
Length: 2.500 in. (63.50 mm)
Rim: round
Comparison only: Holton Farkas MDC
Model number: 13
Outside cup diameter: 1.000 in. (25.40 mm)
Inside cup diameter: 0.686 in. (17.42 mm)
Cup depth: 0.947 in. (24.50 mm)
Drill venturi: 0.185 in. (4.70 mm)
Length: 2.500 in. (63.50 mm)
Rim: round
Comparison only: Bach 7
Model number: 15
Outside cup diameter: 1.000 in. (25.40 mm)
Inside cup diameter: 0.686 in. (17.42 mm)
Cup depth: 0.938 in. (23.83 mm)
Drill venturi: 0.180 in. (4.57 mm)
Length: 2.500 in. (63.50 mm)
Rim: round
Model number: 17
Outside cup diameter: 1.000 in. (25.40 mm)
Inside cup diameter: 0.686 in. (17.42 mm)
Cup depth: 0.929 in. (23.60 mm)
Drill venturi: 0.173 in. (4.39 mm)
Length: 2.500 in. (63.50 mm)
Rim: round
Features
Standard French horn mouthpiece
Silver-plated brass
Unique design
Stable pitch center
Dark, rich tone
Graduated sizes for the right fit