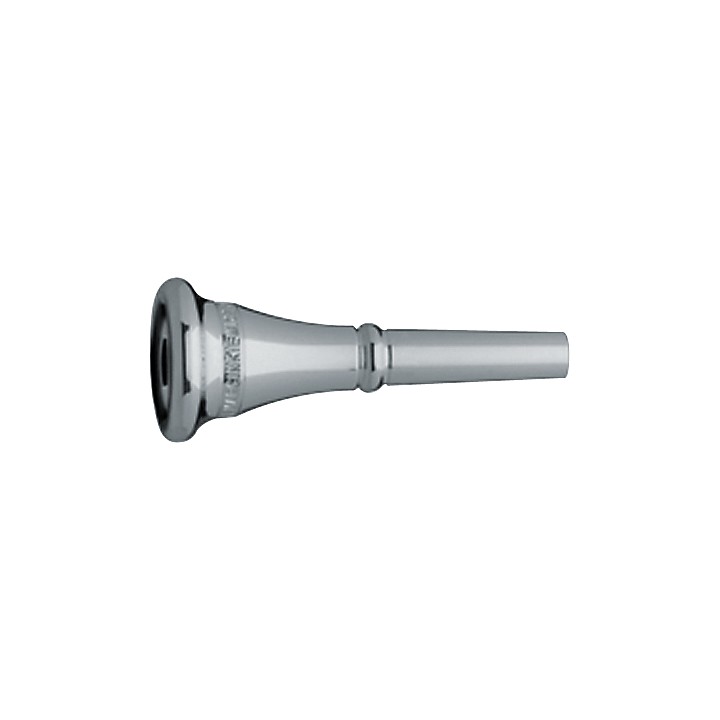 The tone, playability, and consistency professionals need.
The Marcinkiewicz Symphonic Bore Standard French Horn Mouthpiece offers the tone, playability, and consistency needed by today's professional symphonic musician.

Marcinkiewicz Standard Mouthpieces come with a specially modified C/V-cup. The modified C/V-cup offers the darker sound of a C-cup with the efficiency of a V-cup. The air stream is channeled through the center of a uniquely designed cup and venturi, through the backbore and directly into the horn to produce the desired sound. The Marcinkiewicz backbore is designed enhance the player's ability to move easily throughout all registers of the instrument with uniformity of timbre and feel.

A mouthpiece with a deeper cup offers a darker sound and a shallower cup offers a brighter sound. The modified C/V-cup mouthpieces can be shallower and still give the player more flexibility and versatility verses the C-cup or V-cup alone. In short, the modified C/V-cup is easier to play and offers an alternative mouthpiece style to a wider range of players.

The Marcinkiewicz goal is to offer players the best quality mouthpiece at each and every stage of their growth: first as a student and throughout their career as a professional musician. Because the facial structure of young students change as they mature, our line of mouthpieces is carefully graduated, allowing students to progress more quickly (and enthusiastically!) as they find the correct "fit" for their changing anatomy. Marcinkiewicz gives players have the means to progress in logical, gradual increments to find the correct mouthpiece for their unique needs.

The Standard Series mouthpieces are arranged in a logical ascending order from deep to shallow and wide to narrow (No.0 to No.15). This arrangement permits players to select mouthpieces by precise increments of depth to find the
correct cup volume required by their situation. As rim size does not directly correspond to cup depth, please observe inside cup diameter for finding optimal response Marcinkiewicz does not offer copies of other brands in this series, but similar items using our own designs. The comparisons are given for
casual references only.

Specifications
Model number: 1S
Outside cup diameter: 1.000 in. (25.40 mm)
Inside cup diameter: 0.705 in. (17.91 mm)
Cup depth: 1.006 in. (25.55 mm)
Drill venturi: 0.228 in. (5.79 mm)
Length: 2.500 in. (63.50 mm)
Rim: round
Comparison only: Schilke 32
Model number: 3S
Outside cup diameter: 1.000 in. (25.40 mm)
Inside cup diameter: 0.705 in. (17.91 mm)
Cup depth: 0.992 in. (25.20 mm)
Drill venturi: 0.213 in. (5.41 mm)
Length: 2.500 in. (63.50 mm)
Rim: round
Comparison only: Giardinelli C4
Model number: 5S
Outside cup diameter: 1.000 in. (25.40 mm)
Inside cup diameter: 0.699 in. (17.75 mm)
Cup depth: 0.983 in. (24.97 mm)
Drill venturi: 0.206 in. (5.23 mm)
Length: 2.500 in. (63.50 mm)
Rim: round
Comparison only: smaller than C4
Model number: 7S
Outside cup diameter: 1.000 in. (25.40 mm)
Inside cup diameter: 0.699 in. (17.75 mm)
Cup depth: 0.965 in. (24.51 mm)
Drill venturi: 0.201 in. (5.11 mm)
Length: 2.500 in. (63.50 mm)
Rim: round
Comparison only: larger than C10
Model number: 9S
Outside cup diameter: 1.000 in. (25.40 mm)
Inside cup diameter: 0.692 in. (17.58 mm)
Cup depth: 0.965 in. (24.51 mm)
Drill venturi: 0.196 in. (4.98 mm)
Length: 2.500 in. (63.50 mm)
Rim: round
Comparison only: Giardinelli C10
Model number: 11S
Outside cup diameter: 1.000 in. (25.40 mm)
Inside cup diameter: 0.692 in. (17.58 mm)
Cup depth: 0.956 in. (24.28 mm)
Drill venturi: 0.191 in. (4.85 mm)
Length: 2.500 in. (63.50 mm)
Rim: round
Comparison only: Holton Farkas MDC
Model number: 13S
Outside cup diameter: 1.000 in. (25.40 mm)
Inside cup diameter: 0.686 in. (17.42 mm)
Cup depth: 0.947 in. (24.50 mm)
Drill venturi: 0.185 in. (4.70 mm)
Length: 2.500 in. (63.50 mm)
Rim: round
Comparison only: Bach 7
Model number: 15S
Outside cup diameter: 1.000 in. (25.40 mm)
Inside cup diameter: 0.686 in. (17.42 mm)
Cup depth: 0.938 in. (23.83 mm)
Drill venturi: 0.180 in. (4.57 mm)
Length: 2.500 in. (63.50 mm)
Rim: round
Model number: 17S
Outside cup diameter: 1.000 in. (25.40 mm)
Inside cup diameter: 0.686 in. (17.42 mm)
Cup depth: 0.929 in. (23.60 mm)
Drill venturi: 0.173 in. (4.39 mm)
Length: 2.500 in. (63.50 mm)
Rim: round
Features
French Horn mouthpiece
Symphonic backbore
Marcinkiewicz's modified C/V-cup design
Silver-plated
Stable pitch center
Dark, rich tone
Handles wide dynamic range without buzzing
Standard Morse shank taper