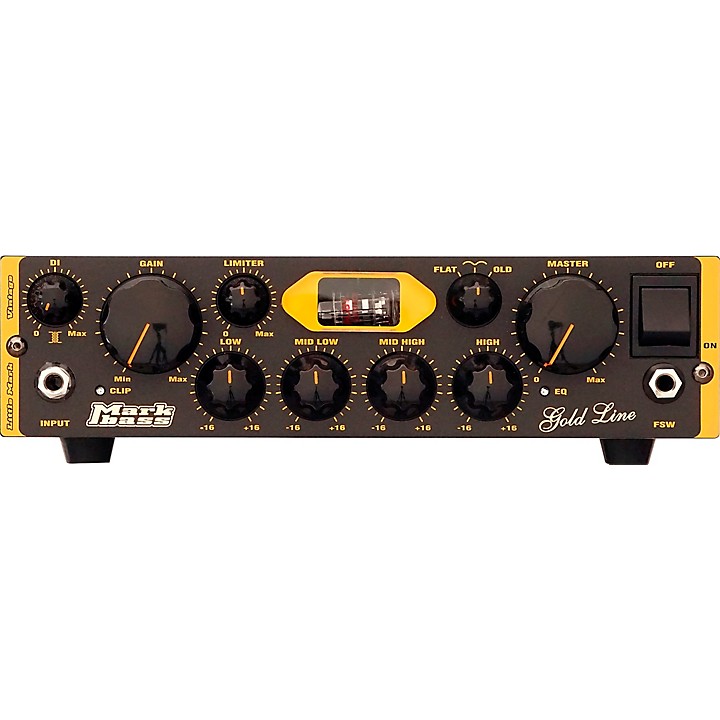 This super-portable, gig-ready bass head is ready to hit the road.
The Markbass Little Mark Vintage 500W bass amp head is designed to let you find your ideal tone, regardless of style.

This is part of the Gold Series, a state-of-the art lineup offering superior quality — starting from gold plated circuits, to the specifically selected components, to some of the most requested features.

Tube Preamp
The Little Mark Vintage features a tube preamp, to get rich and warm tone full of harmonics.

Limiter Control
This control offers a modern feel when you set it all the way up, or vintage response when rolled back. It creates that old generation feel with its typical distortion you get when the Limiter effect is really low.

New EQ setting
The 4-band EQ of the Little Mark Vintage is tuned to offer a rich, balanced tone that easily cuts in the mix.

Real DI box
The balanced DI out with transformer is optimized to give pure, full, rich, linear sound on all frequencies. Although Little Mark amp heads already feature high-quality DI circuitry, the transformer upgrades the DI performance offering a real DI box inside the head, handling extreme transients without introducing any distortion or coloration.

Gold Line Top Features
As it happens in the Gold Line series, the Little Marcus Vintage features gold plated circuits and top-quality components, providing the purest and cleanest sound you can imagine.

Mute and ON/OFF EQ
Footswitchable mute is one of the most requested features in order to tune or switch an instrument silently. The optional Dual Footswitch also allows to turn on/off the EQ section.

Size/Weight
The Little Mark Vintage features the compact size and light weight of other Little Mark heads, bringing massive bass tone in just over 5 lb.

Specifications
Power: 500W RMS @ 4 ohms / 300W RMS @ 8 ohms
Controls: 4-band EQ, gain, pre-/post-EQ switch, Flat/Cut/Old 3-way switch, limiter, volume
FX loop
Tuner output
Speaker out: 1/4" Speakon combo
Dimensions: 10.87" x 9.84" x 3.27" (27.6 x 25 x 8.3 cm)
Weight: 5.07 lb. (2.3 Kg)