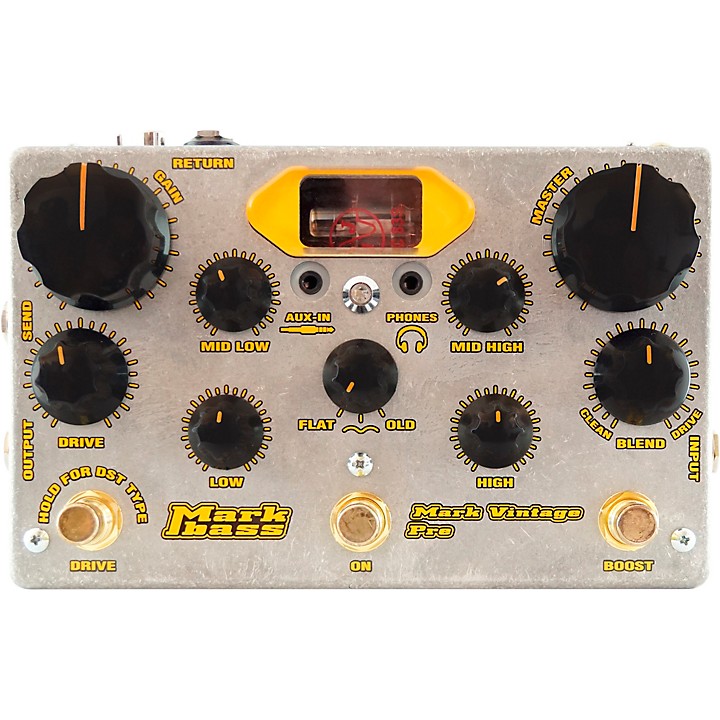 Preamp pedal with a wide range of tonal possibilities, from modern to vintage.
After the great reaction to the Little Mark Vintage Head, Markbass designed the Mark Vintage Pre. The Mark Vintage Pre delivers a massively wide palette of tone options, from modern sounds to vintage ones to fit pretty much any genre you're going for. But this pedal is more than just a preamp. You get a tube preamp, a 4 band EQ, two switchable EQ filters, two different types of drive with level and blend controls, a headphone practice amp with an aux-in and headphone out and a switchable effects loop which can also be used as a tuner output.

4-band EQ / 3-WAY Switch
Like the Little Mark Vintage head, MARK VINTAGE PRE 4 Bands EQ section has a new setting on frequencies center, all tuned to offer a pretty balanced tone that easily cuts in the mix, plus a 3-WAY switch with three useful EQ preset options to get very quickly a real FLAT setting, a CUT one with scooped Mids and enhanced Low and High and an OLD one with scooped High to get an old vintage style tone.

Two Types of Distortion / Blend Control
The Mark Vintage Pre offers two types of distortion (selectable via foot switch). The amount of drive tone, ranging from crunchy overdrive to aggressive distortion, is controlled by the Drive pot. The Blend control allows to mix the Drive tone with the Clean signal of the tube preamp. Adding a bit of distortion during a studio recording gives a 'gorgeous' bass sound cutting in the mix.

Boost
The Boost switch allows you to boost your signal level to +6 dB and instantly get more headroom whenever you need it.

Real DI box
The Balanced DI Out is a real DI box with transformer. It is optimized to deliver pure, full, rich sound on all frequencies, handling extreme transients without distortion or coloration.

Aux IN / Headphone OUT / FX LOOP
The Mark Vintage Pre includes a headphones output and an aux input for connecting an iPod or MP3 player in order to mix it with your bass sound. This allows discrete playing and practicing anywhere, anytime. Plus, a send/return FX loop to interface your favorite stomp boxes and multi-effect units is also included.

True Bypass
This pedal features "true bypass" circuit: that means when the Mark Vintage Pre is 'off', there will be no audio signal quality loss.
Specifications
Tube: 12AX7 (ECC 83)
Input: Impedance 1MΩ, max. voltage 6 Vpp
Outputs: Balanced DI Out with transformer (GND switch)
Digital Outputs: RCA (with transformer) and TOSLINK with sampling rate switch 44.1/48/96KHz
Gain Range: -46 ÷ +23 dB
EQ
Low: Level ±16 dB (Freq. 70Hz)
Mid Low: Level ±16 dB (Freq. 400 Hz)
Mid High : Level ±16 dB (Freq. 2.5 KHz)
High: Level ±16 dB (Freq. 10 KHz)
3-way switch (FLAT / CUT / OLD)
FX Loop
Controls: GAIN | MASTER | DRIVE | BLEND
Switches: ON/OFF | DRIVE | BOOST
Power Requirement: 12VDC | 300mA (power supply included)
Dimensions (W/D/H): 7.6" x 5" x 2.32"
Weight: 1.9 lbs.
Features
4-band EQ / 3-WAY Switch
Two Types of Distortion / Blend Control
Boost
Real DI box
Digital Outs
Aux IN / Headphone OUT / FX LOOP
True Bypass