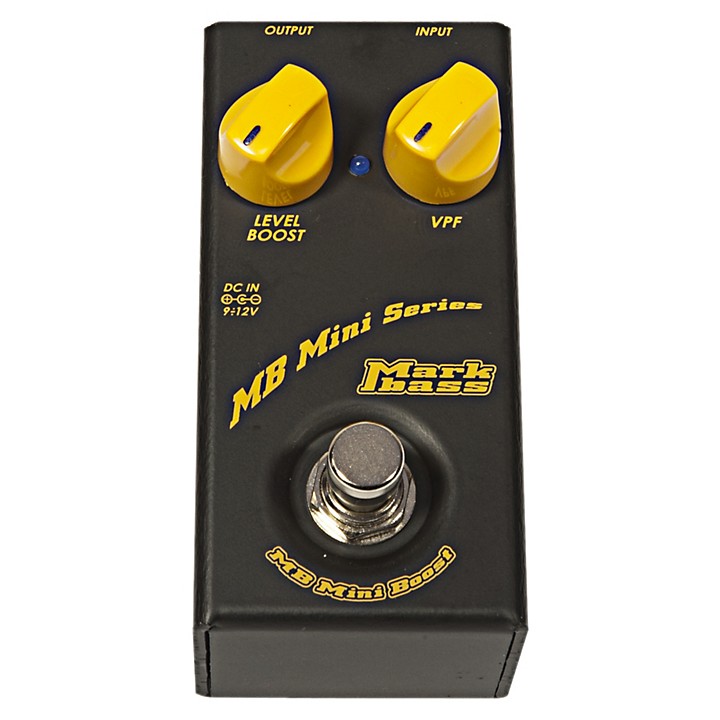 A mini sized boost that features Variable Preshape Filter.
The MB Mini series of pedals from Markbass is made to the same high quality level as their standard effect line, but uses an ultra-compact, lightweight chassis. Smaller than other stompboxes, these incredible-sounding pedals will fit onto even the most crowded pedal boards, and the 9-12V power requirement means you can use them with any standard power supply.Give your pedal board a "boost" with the MB Mini Boost-which also features Variable Preshape Filter (boosts lows and highs, and cuts mids).

The MB Mini Boost allows you to boost your signal level by up to +20dB, to instantly give you more clean headroom whenever you need it. The VPF filter gives you the option to cut midrange while boosting lows and highs, for clean attack and a bottom-heavy slap sound.

MB Mini Boost offers first-rate professional features and exceptional sound quality in an ultra-compact, lightweight chassis, smaller and lighter than other stompboxes. Its standard 9-12V voltage allows you to power it with most common pedal board power supplies.

Like all Markbass pedals, the MB Mini Boost features "true bypass": that means that when the distortion is "off", your signal goes directly from the input jack to the output jack without any degradation of audio quality.

The MB Mini Boost features high-quality components for top sound quality, and is 100% Made in Italy.
Specifications
Input: mono 1?4" jack
Input impedance: 1 Mohm /6 Vpp
Output: mono 1?4" jack
Output impedance: 470 ohm /6 Vpp
Boost Gain Level: from 0 to +20 dB
Dimensions (w/h/d): 3.23" x 1.5" x 4.92"
Weight: 0.51lb. / 230 gr
Power requirements: +9/+12VDC