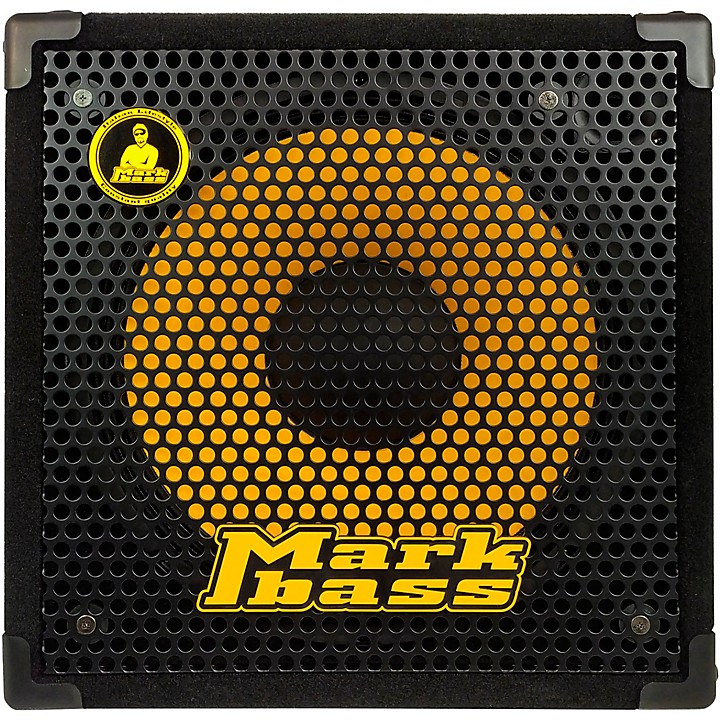 Powerful mini combo with bi-band limiter and enhanced 4-band EQ.
The Markbass Mini CMD 151P IV is a great-sounding and super compact 1x15" combo, sending out 300-watts of power through a single Markbass custom neodymium speaker and piezo tweeter. Highly portable and astoundingly loud for its size, this combo gets even louder when connected to an extension cabinet, most effectively the New York 151. The Little Mark IV Combo head features the innovative bi-band limiter, a Mute switch and the 3-way switch that includes the options of Flat, Scooped or FSW.

Warm, True-to-the-Source Sound
This combo's 15" speaker gives a nice low-mid emphasis that is well suited to blues, roots music, old rock and roll and more. 15" speakers used to sound big, dumb and lacking definition, but the clarity of custom 15s is very impressive compared to other 15" speakers, and its piezo tweeter adds some nice high-end sparkle up to 18kHz.

Updated 4-Band EQ, Old School Filter, 3-Way Switch
The updated 4-band EQ section features very effective controls allowing you to easily find the sound you want, boosting or cutting up to 16dB for each of the four bands to cover all the tonal nuances needed in any genre of music. Additionally, the Old School filter cuts your high frequencies and gives a round and smooth tone. The 3 way rotary-switch allows you to choose between a super-balanced flat tone, a scooped preset that drops the mids while boosting the lows and highs—giving a superb slap sound, or lastly the "FSW" option to control both mute and the Scooped EQ on demand by connecting an optional dual footswitch.

Bi-Band Limiter
The bi-band limiter responds faster and more dynamically to your playing than traditional limiters do and lets your high end "breathe" for a more natural sound. It makes the Mini CMD 151P IV amp head a great choice for anyone who enjoys a quick, punchy attack at high volumes.

Compact Size and Lightweight
The Mini CMD 151P IV takes up very little real estate on stage, is easy to transport around town, and yet it gives you all the volume you need for most gigs. It also easily upgrades to a 500W rig with the addition of a New York 151 cabinet.
Specifications
Speaker: 1x15"
Tweeter: Piezo
Bass reflex: Rear
Impedance: 8 ohms
Speaker power handling: 400W RMS (AES Standard)
Frequency response: 40Hz to 18kHz
Crossover frequency: 3.5kHz
Sensitivity: 100dB SPL
Weight: 40.79 lb.
Width: 18.27"
Height: 18.27"
Depth: 18.9"
Features
Bi-Band Limiter
Footswitch (optional): Flat/Scooped-Mid
Output power: 500W RMS @ 4 ohms, 300W RMS @ 8 ohms
Power requirement: 100V, 120V, 230V, 240V 50/60Hz