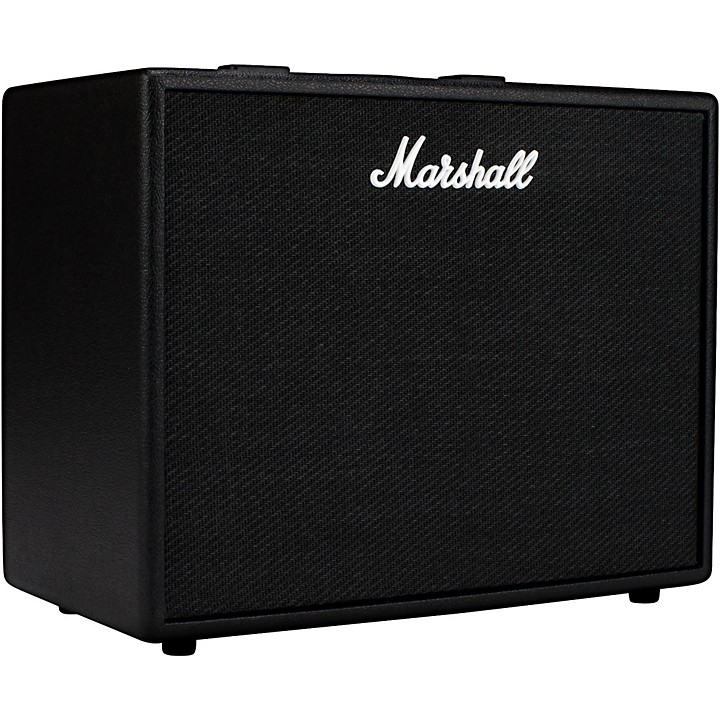 Get the history of Marshall in one versatile, portable combo.
The Marshall CODE50 is a 50W 1x12 combo combining the Marshall legacy with state-of-the-art technology, culminating in a potent little amp that taps into all the tones you crave.

The range offers a choice of digital amp models, power amps, cabinet simulations, FX and more allowing you to dial in every tonal possibility you need. Various choices of glistening cleans, vintage crunches and modern high gain options can be mixed and matched with classic Marshall 100W or British Class A power stage for example, and then run through a choice of various 1x12, 2x12 or 4x12 simulations. Add from a selection of 24 FX, and you have all you need in one complete setup.
CODE50 has 14 MST preamps, 4 MST power amps and 8 MST speaker cabinets. It has 24 FX, including Compressor, classic stompbox Distortions, Auto Wah, Pitch Shifter, Chorus, Phaser, Flanger and Tremolo. It includes Delays with Tap Tempo, and studio quality Reverbs. CODE50's MST preamps produce some of the most acclaimed and best-loved Marshall tones: JTM45 2245, 1962 Bluesbreaker, 1959SLP Plexi, JCM800 2203, JCM2555 Silver Jubilee, JCM2000 DSL100, JVM410H and more. CODE50 features EL34, 5881, EL84 & 6L6 MST power amp voicings, and MST speaker cabinet models: 1960, 1960V, 1960AX, 1960HW, 1936, 1936V, 1912 & 1974X.
The CODE50 can be connected via USB or Bluetooth allowing remote control of all the amps features and functions via the Marshall Gateway software. This software includes an app for mobile devices with extra content, such as access to the upcoming online community, tutorials, patch sharing and more.
Features
Power: 50W (solid state)
Single input
14 preamp models
4 power-amp models
8 speaker cab models
Speaker: 1x12 Marshall
Controls: 3-band EQ, gain, volume, pre FX, amp, mod, delay, reverb, power, cab
100 presets
24 FX (five simultaneously)
Aux. input
Headphone output
USB port
Bluetooth iOS and Android integration
Footswitch sold separately
Dimensions: 20.86" x 17.32" x 11.02"
Weight: 28.6 lb.