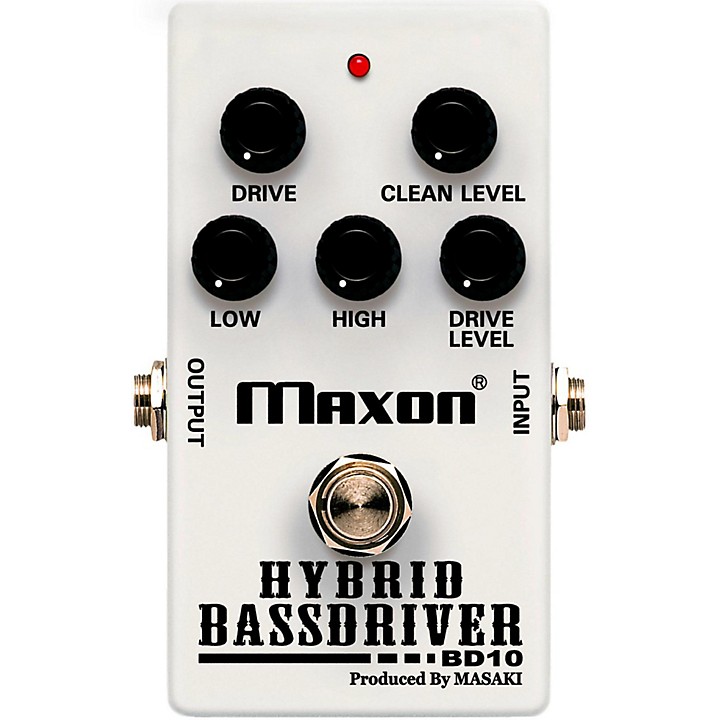 Compact, versatile, and musically expressive, the BD10 Hybrid Bass Driver works wonders on bass and guitar.
Maxon's first overdrive designed specifically for bass guitar, the BD10 offers an articulate distortion that can be blended with clean signal for a variety of saturated tones. The BD10 works equally well with Guitar to create a full-bodied overdrive as well as clean/dirty amp simulations.

The BD10 Hybrid Bass Driver brings Maxon's 40+ years of experience in Overdrive design to the world of the Bass Guitar. But guitarists, don't despair; the BD10 works equally well with six strings as it does with four!

The BD10 was designed in cooperation with Masaki - a prominent Japanese Bassist who has played with world-class musicians such as Carmine Appice, Gus G, and John Petrucci, and is also a founding member of the Japanese heavy metal band Animetal. Masaki's aggressive approach to the Bass includes fluid soloing, manic slapping & popping, energetic fills, and crashing chords for punctuation. He required an overdrive that could keep up with this energetic playing style while still retaining low-end punch and authority.

The BD10's symmetrical clipping path provides sustained, harmonically-rich saturation that retains note clarity and expressiveness even at maximum settings. Aggressive yet dynamic, the BD10 can articulate fast playing techniques such as the multi-finger picking and two-handed tapping that Masaki is famous for.

The BD10 can cover a wide variety of distorted tones, from semi-dirty boosts to punchy, tube-like grind all the way to super-saturated shred. Distorted sounds can then be blended with Dry signal using the independent Clean and Drive Level controls.

Fine tuning the balance between Clean and Distorted signals, the user can obtain the ideal mix for their particular playing style and equipment. Use a pick? Turn up the Drive for chunky chugs. Play with your fingers? Boost the Clean for more clarity and articulation of your notes. Clean signal can be boosted up to +6 dB above unity gain, allowing the DB10 to be used as a clean or semi-clean booster or as a linedriver for your signal chain.

Since the BD10's circuit is based on Maxon's legendary 808 design, it can also be used with Guitar. The dual tone controls allow the user to dial in the lows that are typically lost with 808-style pedals, while the ability to blend clean and dirty signals can simulate the sound of a dual-amp rig as well as pedals like the Klon Centaur and Voodoo Labs Sparkle Drive.

Features
Overdrive designed specifically for bass guitar
Designed in cooperation with famous Japanese bassist Masaki
Symmetrical clipping circuit yields heavy yet articulate distortion
Dedicated Clean Level knob with +6 dB max boost
Dedicated Drive Level knob with +14 dB max boost
Dedicated Drive knob to control amount of distortion
Individual Bass and Treble knobs for precise tonal control
Buffered bypass switching