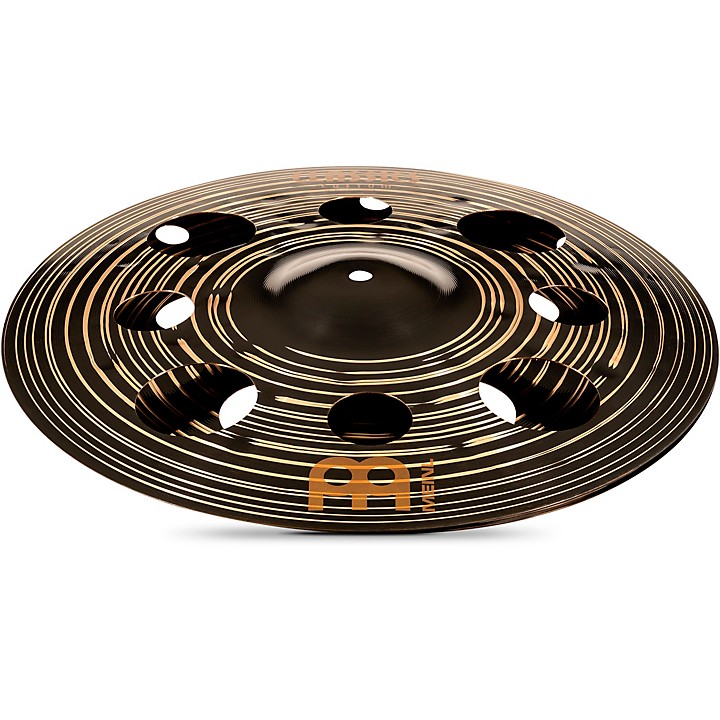 Dark FX stacks that can be played individually or as pairs delivering fast attack and trashy effect.
The Meinl Classics Custom Dark 12" dark stack pairs the trash splash with a mini china while the new 16" and 18" dark stacks pair a trash crash and trash china of the same size. These combinations work great as stacks or as individual effect cymbals giving you multiple options. The smaller 12" stack has a cutting, short attack with a higher pitch while the 16" and 18" have a fuller, deeper attack at relatively lower pitches. Choose the one (or two) that fits your music.

Classics Custom Dark cymbals undergo a special finishing process that leaves the cymbals with dark and complex tones along with the clarity, cut and volume that Classics Custom is known to deliver. This same unique twist on the traditional design gives the cymbals a rich, dark appearance. Widely spaced deep hammering and additional lathing round out their tonal qualities, giving them a warmer mix of sound along with an explosive response.

Features
12" dark stack pairs the trash splash with a mini china
16" and 18" dark stacks pair a trash crash and trash china of the same size
Work as stacks or individually
12" stack—cutting, short attack with higher pitch
16" and 18" stacks—fuller, deeper attack at lower pitches